'Surreal' track flooding at Mitcham Junction causes train delays and cancellations
6 March 2020, 08:08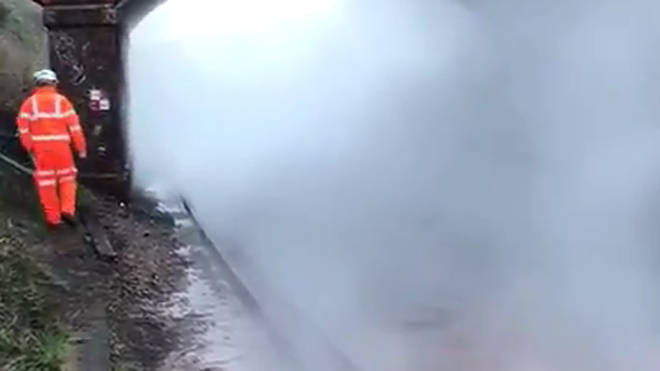 'Surreal' flooding has delayed trains in parts of South London as lines at Mitcham Junction are underwater with steam rising from the trackbed.
The flooding means Southern trains are unable to run between Balham and Sutton and Thameslink services are suspended between Streatham and Sutton.
Following very heavy rain yesterday and overnight, the track at Mitcham Junction is flooded, and it's unsafe for trains to pass through.
Until the floodwater has been drained, trains are unable to run on this section of the line.
Network Rail engineers are working to pump the water away as quickly as possible.
The cause of the steam is currently unknown but one Twitter user suggested it could be due to water touching the live electric rail which causes the steam.
A spokesperson said Southern and Thameslink services which usually run via Carshalton & Mitcham Junction will be diverted away from the area, revised to call at different stations, or cancelled.
Carshalton, Hackbridge, Mitcham Junction and Mitcham Eastfields are not currently being served by trains.
The train operator recommend commuters that normally use these stations, plan to use an alternative route and do not head to the station (with the exception of Mitcham Junction, for Tramlink connections only).
They advised there would be alterations on specific routes:
-Trains which usually run between Dorking / Epsom and London Victoria (via Carshalton) are likely to be cancelled entirely
-Trains which run between Horsham and London Victoria (via Sutton & Carshalton) will be diverted, not calling at the usual stations between Sutton and Clapham Junction, and are likely to be delayed
-Thameslink services via Wimbledon and Sutton will be diverted on the section of their route between Sutton and Streatham/Tulse Hill