Tesco begins rationing 'disaster' goods to halt coronavirus panic shoppers
8 March 2020, 10:24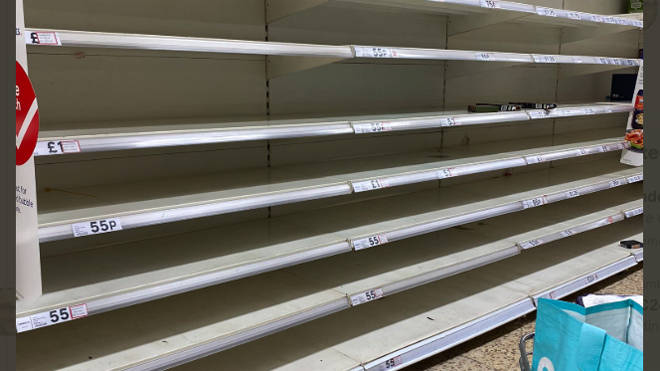 Tesco has started rationing the sale of 'disaster' goods like pasta and baked beans in branches in the UK to stop shelves being stripped amid coronavirus fears.
Dry pasta, baked beans, and UHT milk are all among items that are under the restriction, along with anti-bacterial gels, wipes, sprays and children's medicine Calpol.
Tesco has confirmed that shoppers will be limited to five of the items on Saturday and from today, the restriction also applies to online orders.
READ MORE: First UK patient to survive coronavirus describes what it's like having the disease
Shoppers have been clearing the shelves at supermarkets around the country amid fears over coronavirus.
Footage emerged of shoppers descending on supermarkets around the UK.
One video filmed in a Costco in Chingford showed checkouts packed, with shoppers buying large amounts of bottled water, and clashes over toilet rolls.
The person who filmed the clip told the MailOnline: " 'It was all very over the top, people were fighting over toilet rolls and being limited to one per person. 
They were talking about putting restrictions on the bottled water as well.' 
He added: 'There were hardly any toilet rolls left and the water was running short. 
Another clip shows shelves in an Asda in Surrey stripped of goods. The video was posted on Facebook captioned: "Where has all the food, toilet paper and water gone?"
Shoppers vented their anger at the 'selfish' panic buying.
One person wrote online: "Hey Tesco, I went into my only supermarket for my normal shop only to find no toilet paper!! Seriously, stop letting people check out who are bulk panicbuying It's selfish and unnecessary!!!"
One woman wrote: "No pasta at Tesco in Horsham yesterday... the hand soap, toilet paper and eggs shelves were the same. Why?! You don't need 20 bottles of hand soap, leaving others with none, in order to save yourself. Everybody needs hand soap to stop the spread of coronavirus."
Another posted: "In front of empty cough and cold medicine shelves in Tesco I heard a woman say to a man "oh well we'll either die or we won't, come on"
Another wrote: "I can't even buy a simple pasta or hand wash at Tesco. You people are moving mad."
Tesco said it was monitoring the situation and told customers that there will be advice given to shoppers in stores and on the Tesco website.
Asda said customers were being limited to two bottles of hand sanitiser per person, but that no other restrictions on food items or toilet paper were in effect.