'Tornado' Trashes Parts Of Wales
17 November 2016, 14:56 | Updated: 17 November 2016, 15:34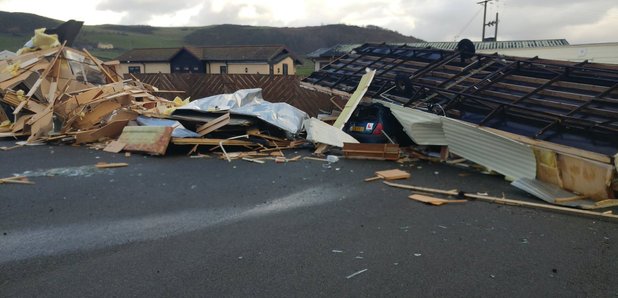 A holiday park in Wales has been trashed in Wales with reports emerging that the damage was caused by a tornado.
The video above posted by Natasha Harris shows a temporary structure being swept around the grounds of Aberystwyth University.
Images posted on Twitter by Thomas Scarrott also show scenes of devastation at the holiday park in Clarach, Aberystwyth.
"This is not a joke. Just had a tornado hit Clarach! Major damage. No one hurt," Scarrott said on his Twitter feed.
"Without any warning whatsoever the wind increased dramatically and before I knew it there was caravan and debris flying round everywhere," Scarrott told LBC.
"There were caravans flying towards me and other members of staff."
The images show considerable damage to the caravans, with debris scattered across cars. Elsewhere in Wales some extremely windy scenes were published on social media.
Forecasting agency the Met Office is has issued a weather warning with a band of heavy wind sweeping across Britain from west to east.
The Mid and West Wales fire service dealt with 25 weather-related incidents after trees crashed onto roads, power lines fell, caravans overturned and tiles were flung from roofs.
No reports have been received of anyone being hurt in the storm, which saw winds of up to 94mph hit the area this morning. The weather front is due to hit the densely populated south east of England early this evening.