Tory MP Describes Brexit No Deal As "Real N***** In The Woodpile"
10 July 2017, 16:20 | Updated: 10 July 2017, 18:24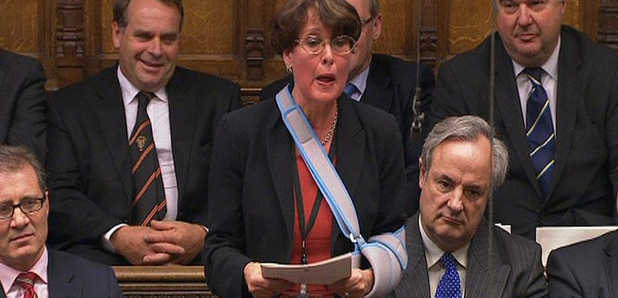 A Conservative MP has been caught up in a racism row after she was recorded describing the UK leaving the EU without a deal as a "real n***** in the woodpile".
Anne Marie Morris reportedly made the racial slur during a meeting of eurosceptics in Central London on Monday.

In a recording published by the Huffington Post, the MP for Newton Abbott appears to say: "Now we get to the real n***** in the woodpile which is in two years what happens if there is no deal?"

According to the website, Ms Morris was speaking at the event to discuss Britain's future financial services relationship with the EU, hosted by the Politeia think tank at the exclusive East India Club.
The Conservative Party has confirmed the Tory MP has had the whip suspended after the remarks sparked outrage.
Tory MP Ed Vaizey told Iain Dale that the slur was "completely unacceptable", adding the Prime Minister should condemn the remarks "very clearly".
Green co-leader Caroline Lucas tweeted: "Appalling. Should have the whip removed immediately. No place in our politics for racism, full stop".

Labour's Chuka Umunna said: "Speechless, not just at the remark being made but also at the reported lack of a reaction from the Tories there. Utterly appalling."

Tim Farron, the outgoing Lib Dem leader, described the comment as "disgusting".

In a statement, he said: "I am utterly shocked that this person represents the good people of Newton Abbot."

Ms Morris has since apologised "unreservedly" for "any offence caused" by her "unintentional" use of racist language.