UK floods: Woman killed after being swept away by rising water
8 November 2019, 11:23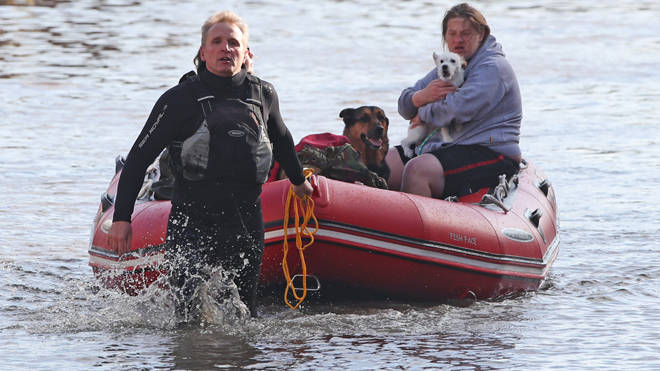 A woman has died as rising floodwater swept towns across the north of England.
The woman was swept away by floodwater in Rowsley, Derbyshire. Her body was found later at a stretch of the River Derwent in Darley Dale.
Her body was recovered at 10.40am today.
Derbyshire Police said the family of the woman has been informed and their "thoughts are with them at this time."
Formal identification has yet to take place.
The death came as the Environment Agency repeated warnings for people to stay away from swollen rivers, with residents describing the deluge as "almost biblical".
Yorkshire and the Midlands were the worst affected areas, with six severe "danger to life" warnings in place around the River Don as of 1pm.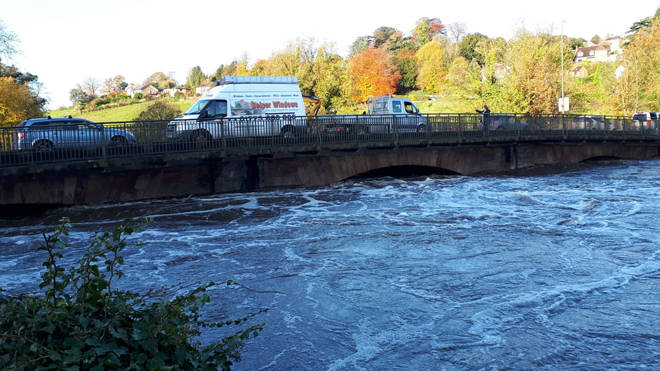 The torrential rain which swept across parts of England has caused hundreds of homes to be evacuated, blocked rail lines and left people stranded overnight in a shopping centre.
There are currently 118 flood warnings in place across the UK, including three severe 'danger to life' warnings for the River Don at Kirk Bramwith, South Bramwith and the Willow Bridge caravan site, which are all in Doncaster.
Four hundred homes have been evacuated in Kirk Sandall near Doncaster because of the severe flood warnings.
Follow all the latest on the flooding LIVE here
Rail operator Northern has issued 'do not travel' advice for passengers using five lines on its network hit by the deluge.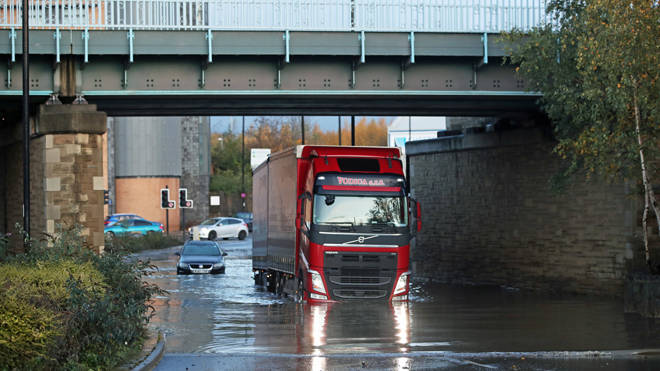 The lines involved are between Sheffield and Gainsborough, Sheffield and Lincoln, Sheffield and Goole, Hebden Bridge and Rochdale, and the line from Sheffield to Leeds via Moorthorpe.
In Sheffield, Christmas shoppers were stranded overnight inside the Meadowhall Shopping Centre after the area was deluged with a month's worth of rain in less than 24 hours.
Sheffield police confirmed people were being kept inside the shopping centre for their own safety, and pictures from inside show all the shops have been shut.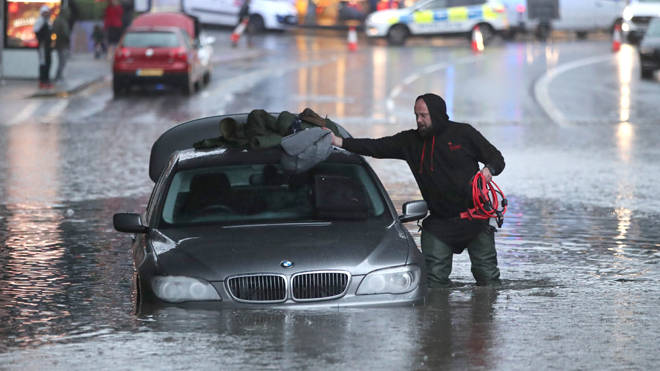 Transport in Yorkshire and the North West were the worst affected places.
Routes from Sheffield to destinations such as Leeds via Moorthorpe, Lincoln, Doncaster and Goole.
Trains are also unable to run on routes such as Manchester Piccadilly-Cleethorpes, Leeds-Doncaster and Hebden Bridge-Rochdale.
Rail replacement bus services are not being provided due to road closures and unsafe driving conditions.
Motorists have also been advised against driving through deep water.
Network Rail, which owns Britain's rail infrastructure, said track inspections will take place "where possible".
Rail firm Northern warned that disruption could continue into the weekend despite the weather improving in many areas.
A spokesman said: "We are still advising customers on several routes not to travel as flooding is making rail and road travel extremely difficult.
"Colleagues at Network Rail are inspecting the tracks and working hard to return them to normal, but at present we have no estimate as to when we will be able to operate services on the affected routes."
He added that Northern will "try to run as many services as possible".
Other train companies hit by the weather include CrossCountry, East Midlands Railway, LNER, Merseyrail, TransPennine Express, Transport for Wales and Chester, and Virgin Trains.
Doncaster Council has warned some residents to evacuate their homes because the River Don is breaching its banks near St Oswald Church at Kirk Sandall.
The council tweeted: "There is a Severe Flood Warning in place for Sandal Grove, Old Kirk Sandall.
"Residents in these areas are advised to evacuate immediately."
The chief executive of Timpson, the shoe repairs and key cutting high street firm, has said its shops in Worksop in Nottinghamshire, are under water following the heavy rain and will be closed until next week.
James Timpson tweeted: "I've spoken to the team to arrange shop fitters to get there ASAP."
Around 25 homes in Worksop were also evacuated due to the risk of flooding.
Damien West, head of prevention and protection at Nottinghamshire Fire and Rescue Service, tweeted: "In Worksop with Crews who are working tirelessly to rescue a large number of people from flooded premises. A very long, cold and hard working night."
Saskia Hazelwood, 17, from Doncaster, was among those stranded in Sheffield's Meadowhall shopping centre.
She said: "When we got to Meadowhall it was very hectic and we heard about the flooding and saw the river about to burst.
"Our trains were then cancelled so we went to get food, then spoke to the police and security and they told us it was unsafe to leave and there was no way of getting in or out.
"So we instantly started panicking and, when we found out there was no way of getting home, we went into Primark and all bought spare clothes and we bought food and drinks to keep us going throughout the night.
"We were in M&S for a while on the sofas until they closed the store, and we were then moved to the Oasis food quarter. We were there until 7am."
Saskia, a student, added: "We were provided with free refreshments throughout the night and morning but it was certainly not enough.
"We had to basically camp out in the food area until they finally got a taxi to us at 7am.
"None of us had slept for over 24 hours. We were very tired, stressed and, of course, our families were panicking and kept keeping in touch.
"My dad even tried driving to us around 11.30pm but, because the centre was gridlocked and also flooded and shut off, he wasn't able to get to us and so he had to turn around and go home.
"At the start we thought it would be fun, a nice sleepover, something to certainly remember, but after 14 hours of being stranded in Meadowhall we just couldn't wait to get home, get into our own beds, feel safe again, and catch up on sleep."
Superintendent Mat Healey, of Nottinghamshire Police, said: "A multi-agency response has been put in place to deal with this major incident affecting a large number of properties in Worksop and Mansfield and the wider impacts across the county.
"Thankfully, we understand the peak rainfall has now passed and river levels are expected to subside but this may take some time to be seen on the ground due to saturation, so the impacts are set to continue."