UK Households Are $56,000 Poorer Since Brexit
22 November 2016, 09:39 | Updated: 22 November 2016, 09:46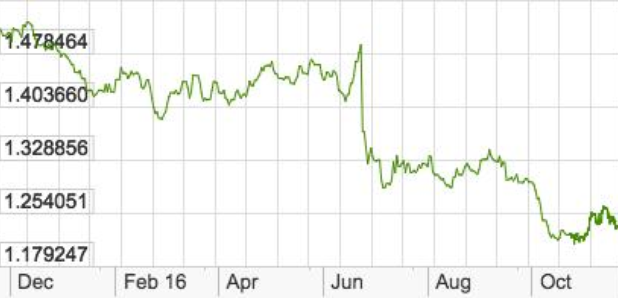 A report has revealed that British households are each $56,000 poorer due to the fall in the value of the pound since Brexit.
Credit Suisse discovered that the pound is $1.5trillion poorer compared with the dollar - reflecting sterling's 20% drop since the EU Referendum in June.
The Global Wealth Report states that while stock market values had recovered since the Brexit vote, with the FTSE 100 even hitting record levels last month, it remained well below record values in dollar terms.
That means each household is $56,179 worse off compared with the dollar than we were in June.
As people talk about JAMs - those people who are Just About Managing - this is a huge potential hole in their finances.
Michael O'Sullivan, chief investment officer of international wealth management at Credit Suisse, said: "The impact of the Brexit vote is widely thought of in terms of GDP but the impact on household wealth bears watching.
"Since the Brexit vote, UK household wealth has fallen by $1.5tn.
"Wealth per adult has already dropped by $33,000 to $289,000 since the end of June.
"In fact, in US dollar terms, 406,000 people in the UK are no longer millionaires."