UK-US security partnership still 'very close', Downing Street says
6 January 2020, 12:18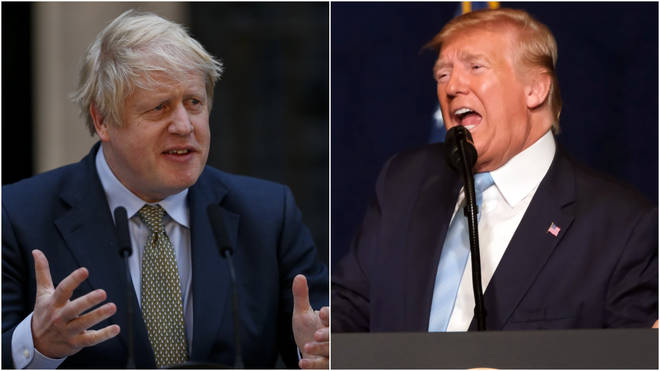 Downing Street has insisted Britain's security partnership with the US remains "very close" despite Donald Trump not informing the UK of its plans to assassinate Qassem Soleimani.
Washington has threatened to target 52 separate Iranian sites if there is retaliation against US nationals or American assets in the region, while Tehran has been describing President Donald Trump as a "terrorist in a suit".
The Prime Minister's official spokesman said: "We have a very close security partnership with the United States, we are in regular dialogue at every level."
Asked if Mr Johnson was convinced the US drone strike was legal, the spokesman said: "States have a right to take action such as this in self-defence and the US have been clear that Soleimani was plotting imminent attacks on American diplomats and military personnel."
Mr Johnson spoke to the Iraqi prime minister on Monday morning, the spokesman said.
READ MORE: Iranian General Qassem Soleimani's daughter warns of 'dark day' for America
Britain, France and Germany have called for restraint on all sides, as tensions between Iran and the US escalate.
Boris Johnson said "we will not lament" the death of Iranian general Qasem Soleimani, describing him as "a threat to all our interests".
Alongside his French and German counterparts, Emmanuel Macron and Angela Merkel, the PM called for all sides to work towards an urgent easing of tensions in the Persian Gulf.
The three leaders released a statement late on Sunday night saying while Iran must stand condemned for the negative role it has played in the region, "there is now an urgent need for de-escalation".
The Prime Minister warned that "all calls for retaliation or reprisals will simply lead to more violence in the region" - adding that the UK "is in close contact with all sides to encourage de-escalation".
On Sunday the Iraqi Parliament voted in for a resolution to expel all foreign troops from its land.
Downing Street urged the Iraqi government to allow foreign troops to remain in the country to fight against the threat posed by IS.
The PM's spokesman said: "The coalition is in Iraq to protect Iraqis and others from the threat from Daesh at the request of the Iraqi government.
"We urge the Iraqi government to ensure the coalition is able to continue our vital work countering this shared threat.
"The Foreign Secretary spoke to the Iraqi president and prime minister this weekend.
"The Prime Minister is speaking with his Iraqi counterpart today and our ambassador in Baghdad is in touch with political leaders in Iraq to emphasise these points and urge them to ensure we can keep fighting this threat together."