Paul Nuttall Named New Ukip Leader
28 November 2016, 11:39 | Updated: 28 November 2016, 12:30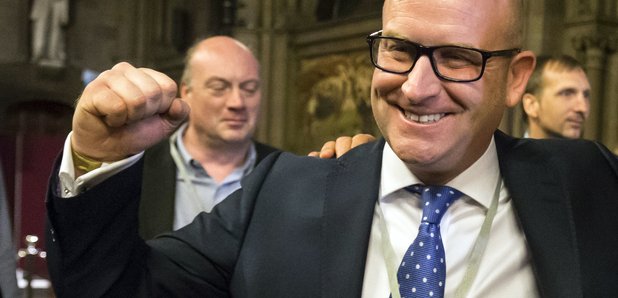 Paul Nuttall is the new Ukip leader in a resounding victory in the Ukip leadership election.
Mr Nuttall received 62.6% of the vote, with Suzanne Evans coming second and John Rees-Evans third.
Peter Whittle, a former candidate for Mayor of London, will be Mr Nuttall's deputy leader.
The party was searching for a new leader after Diane James resigned as leader after just 18 days.
Mr Nuttall said it was time for the party to unite, saying: "Today is the day that we start to put the Ukip jigsaw back together. It's day zero, it's a new beginning.
"That means not only paying lip service to my call for unity, but practising what we preach.
"It means all factions of the party coming together, letting bygones be bygones and sitting round the table together and sorting out our differences.
"This party has a duty to unite. Those at the top of the party owe it to our membership and the four million who voted for us last year but also to the 17.5 million who went out and voted for Brexit."
The new Ukip leader, currently an MEP for the North West of England, has previously said that he wants to target Labour areas in the north of England who are disillusioned with the party under Jeremy Corbyn.
LBC's Political Editor Theo Usherwood believed Nigel Farage's speech before revealing the winner gave the game away.
Farage gives the game away as he refers to the new Ukip leader as a "he"...

— Theo Usherwood (@theousherwood) November 28, 2016
The trio took part in a controversial debate live on LBC with Iain Dale - where Mr Rees-Jones announced he would back the death penalty for paedophiles.