Rail union sets out plan to end 27 days of December train strikes
9 December 2019, 09:03
The RMT has laid out a "six-point road map" to try and end the deadlock between its members and South Western Railway as rail strikes enter a second week.
The Rail Maritime and Transport (RMT) union, who are currently involved in a dispute over guards on trains, has published the plan in a bid to prevent further industrial action.
On Monday, members took to stations across the network to stage their eighth successive day of strikes.
Hundreds of services have already been cancelled, including key commuter trains to London Waterloo.
Current plans from the union would see workers walkout for 27 days across December.
RMT members say they intend to table the six point plan during talks at the conciliation service Acas.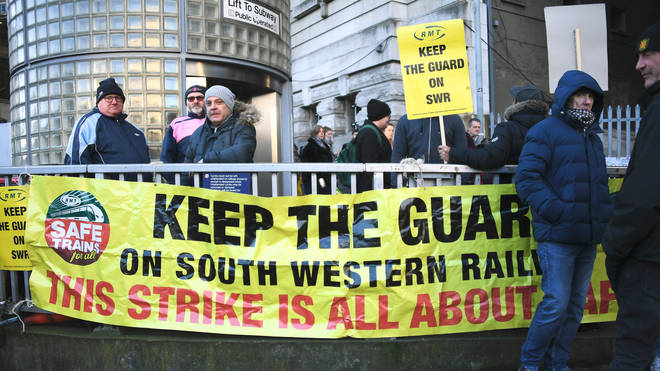 Currently, the dispute centres on the role of guards on trains.
The RMT want guards to have a few seconds to ensure the safe despatch of trains from stations.
South Western Rail (SWR) say they want a guard on every train with a safety-critical role, but they also should have more responsibility to help passengers, including those in wheelchairs and with buggies.
The RMT is pushing for a method of despatch in which the guard has a clear, defined role as well as providing passenger assistance.
The union said their plan will set out a system whereby there is a guard on every train.
They also said these guards would retain their safety-critical responsibilities, which will include an active role in the safe despatch of trains.
General secretary Mick Cash said: "As our members stand solid and united with this phase of SWR strike action entering its second week, we are literally three seconds away from a deal that would achieve both our objectives and the company's, and I would appeal to SWR to get out of their bunker and back into Acas with the union to bolt down a settlement.
"A negotiated solution to this dispute which would cost the company nothing and meet RMT's objectives of protecting safety and accessibility is within grasp. I would urge SWR to seize this opportunity."
A South Western Railway spokesman said: "We actually agree with most of the RMT's points, but on a busy metro network like ours every second counts and we cannot have unnecessary and inefficient practices that increase delays for passengers.
"The best and safest way to operate the new trains we will introduce next year is with the driver closing the doors, as the industry's own safety body, the RSSB has said.
"Only by doing this can we free up guards to offer the customer assistance the RMT describes, making our trains more accessible, and providing better customer service to everyone.
"So we need to understand what's new or different about what the RMT is proposing on this issue."