Up to 500 police officers drafted in to help Met tackle Extinction Rebellion protests
9 October 2019, 11:03
Hundreds of police officers are being drafted in from across the country to help the Met tackle Extinction Rebellion protesters.
Up to 500 officers from forces all over England and Wales have been moved to London during the two weeks of environmental action.
The National Police Chiefs' Council said those called upon will either have lost a rest day or been moved off their regular shift.
They added that the home forces of those drafted in was "pretty evenly split" across the country.
Policing Minister Kit Malthouse told LBC the move will have a "distressing impact" on officers' day to day work.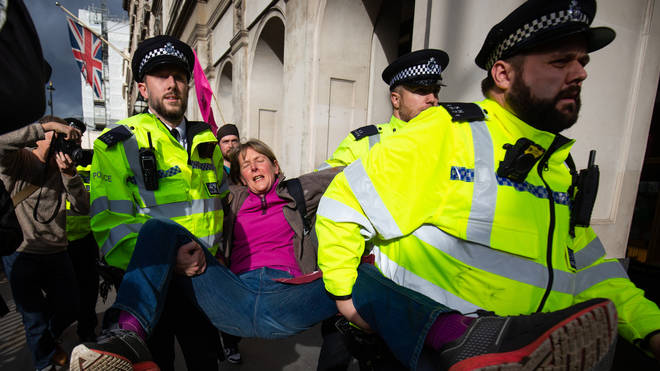 Read more: 91-year-old Extinction Rebellion protester arrested by police outside the Cabinet Office
As of 7.30am on Wednesday, 583 arrests had been made in total, with 28 today.
Officers detained 261 people in the capital on Tuesday amid activists gluing themselves to buildings and refusing to move when prompted by the Metropolitan Police.
It came after a further 319 were arrested on Monday on the first day of the international action, which is taking place in cities across the world to demand more be done by governments to tackle climate change.
The 319 arrests dwarfed the 122 made on the first day of similar protests last April.
However, Scotland Yard was unable to provide further details on what people were arrested on suspicion of.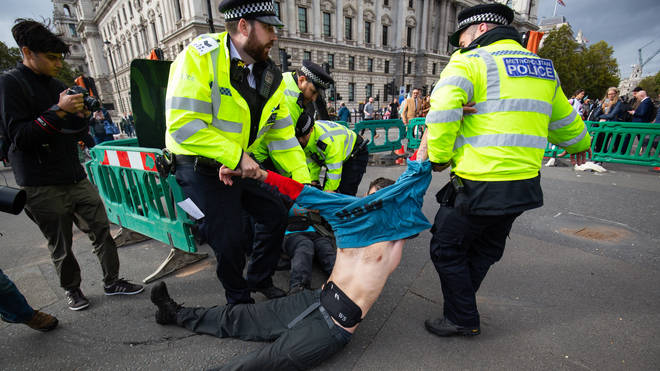 There were just a handful of tents left on Whitehall on Wednesday, where an impromptu camp had been erected, with those left preparing to be arrested.
But camps remain on Horse Guards Road, Marsham Street and near to Parliament Square, despite rain and an increased police presence.
A National Police Chiefs' Council spokesman said: "The National Police Coordination Centre (NPoCC) manages requests for mutual aid, and have received a request from the Metropolitan Police Service.
"Forces routinely share officers through mutual aid to ensure an appropriate police presence exists where there is increased demand for it.
"Quite rightly, the public expect their police service to make necessary arrangements to keep communities safe and ensure the welfare of all officers involved in operations.
"We will continue to work with the Metropolitan Police in managing their needs."