Vegans celebrate dairy-free Galaxy bar but slam 'vegan tax' price tag
13 November 2019, 10:40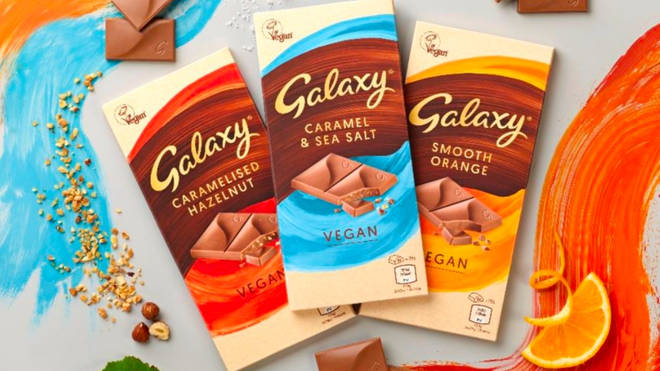 Vegans have told of their joy after Mars announced a dairy-free version of the Galaxy bar – but they have criticised the chocolate's price tag.
People who follow a plant-based diet will now be able to choose from caramelised hazelnut, caramel and sea salt or smooth orange versions of the bar.
It prompted celebrations from vegans on Twitter, who said: "I never thought I'd see the day where a big dairy-based chocolate brand would offer us the goods!"
Another said: "Galaxy chocolate was my fav before going vegan, so this is awesome news."
"You asked for vegan Galaxy Chocolate bars – have THREE! Introducing Galaxy's new vegan range in Smooth Orange, Caramel & Sea Salt, and Caramelised Hazelnut, all registered with the #VeganTrademark. AVAILABLE MONDAY 18 NOVEMBER at Tesco." 😱😱😱 pic.twitter.com/o2hhIIxZn2

— 🥀🥀🥀 (@spooky_t0fu) November 13, 2019
While a third added: "Vegan Galaxy chocolate bars now exist and I'm so happy."
But many criticised the price - £3 for a 100g bar – which is double the price of the regular Galaxy bar.
One Twitter user said: "That's a pass from me for the new vegan Galaxy bars.
"The vegan tax on these is pure greed. Trying to exploit those who want to do better."
okay, Galaxy are making VEGAN chocolate?! 2019 really is the year of vegan releases 🌱😍

— Ciara Foster (@ciarascorner) November 13, 2019
Kerry Cavanaugh, marketing director at Mars Wrigley UK, said: "We're so excited to be bringing these delicious treats to Galaxy's range using a vegan recipe that doesn't compromise on the brand's signature smooth and creamy characteristics.
Wherever you look you can't avoid the vegan buzz in the UK and with the launch of Galaxy Vegan we're thrilled to be offering vegans, flexitarians and lovers of sweet treats even more ways to choose pleasure with a brand they love."
Abigail Stevens, the trademark marketing manager at the Vegan Society, added: "We are delighted that Galaxy, such a well-known brand, is entering the vegan market and offering more choice - and even more excited that there are three delicious flavours to choose from!"
Responding to criticism over the product's price, a brand spokesperson said: "This is a premium product that doesn't compromise on quality and taste and the ingredients are more expensive.
"We think that people will love the taste and that it's great value for money."
The bars will be available at Tesco stores from Monday and online soon after via Ocado and Amazon.