Watch adorable six-year-old explain how he saved his sister from a fire
13 January 2020, 09:51
A six-year-old has been hailed as a hero by firefighters after he rescued his sister during a chip pan fire at his home.
Kyran Walker, who is autistic, remembered what to do after being given a safety briefing at his school by Lancashire Fire Service earlier on last year.
He saw smoke coming from the kitchen and urged his five-year-old sister, Kemi-Leigh to start crawling on the floor down the stairs to their front door.
Speaking to LBC News Kyran said he "just saw lots of smoke," he remembered the advice he got from firefighters and he "kept how to do it in my head."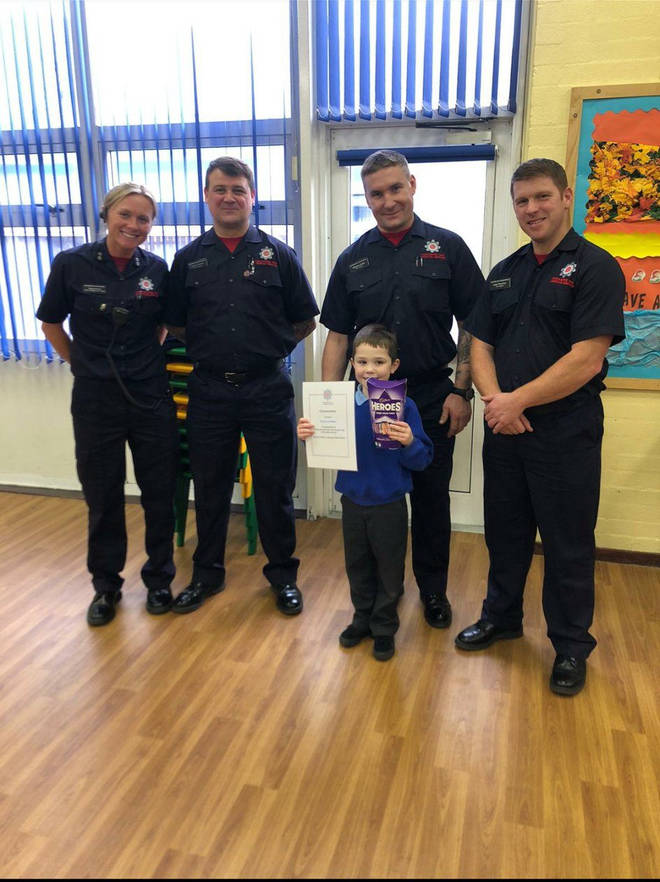 Kyran's mother Naomi told LancsLive News she thought her son was "pretty amazing," adding she was "really proud of what he did."
Naomi said she was upstairs, believing she had turned the chip pan off but had accidentally put it on high. Kyran spotted the smoke and ensured both he and his sister crawled out of the front door, knowing that smoke rises.
"The fire alarm did not go off at all so I didn't have a clue about it.
"There was no fire itself but it was seconds away from being a fire. By the time the kids had shouted me and I came down the whole downstairs was completely blacked out with smoke."
Kyran was presented with a certificate and box of Cadbury Heroes by firefighters who came into his school.
A Lancashire Fire and Rescue Service spokesperson said: "We were delighted to be invited back to Kyran's school to present him with a certificate and a box of chocolates.
"They were well deserved. It takes a lot of bravery and composure to do what Kyran did when he faced the smoke from the chip pan.
"For an adult this can be a harrowing experience which could cause them to freeze and panic so for a six-year-old to act in this way is hugely impressive.
"This incident also highlights the benefits of the Childsafe visits that we offer to every primary school aged pupil in Lancashire.
"The lesson usually lasts one hour and focuses on increasing knowledge about fire risks and awareness of what to do in the event of a fire."