Westminster terror plot suspect Khalid Ali 'reported to police by his mum', court hears
5 June 2018, 12:40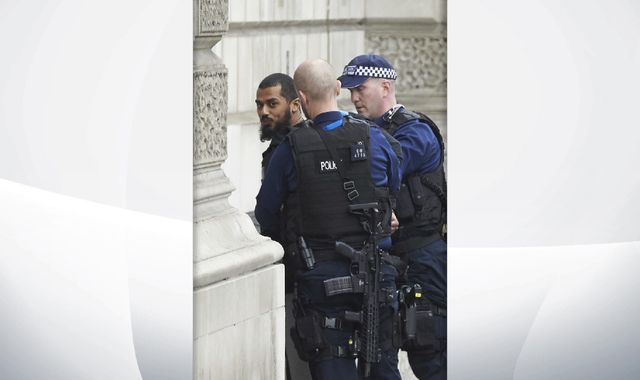 The mother of a British Taliban fighter accused of planning to cause carnage in Westminster reported her son to police just hours before he arrived to carry out his attack, a court has heard.
Khalid Ali was found armed with three knives when he was arrested in Parliament Square on 27 April last year, with jurors told how he had returned from a five-year stint making bombs in Afghanistan to "deliver a message".
His arrest came four weeks after terrorist Khalid Masood's attack near the Houses of Parliament, in which five people died in March 2017.
Prosecutor Brian Altman QC told the Old Bailey that the 28-year-old was reported to police after his mother found knives in the bedroom of his home in Edmonton, north London.
When officers arrived at the property just after midnight on the day of his arrest, a visibly upset Fadumo Faji Adam told them that she "was scared he was going to kill the family", the court was told.
"She showed the police three large black-handled knives, which some of the officers thought looked shiny and new, while others thought them dull or used," said Mr Altman.
Ms Adam told officers she did not want her son to be arrested, only that he should leave the house, and Ali insisted he had no idea why his mother had called them.
The court heard how he had bought the knives two days before at The Mighty Pound in Ealing, west London, and how after their discovery he replaced them with an eight-inch kitchen knife and two three-and-a-half-inch paring blades from Wilko.
He was then seen by surveillance officers on the day of the planned attack, accidentally cutting himself as he threw away the packaging at a gym, before taking the tube to Victoria.
On previous trips into central London, Mr Aldman said Ali was captured on CCTV performing "hostile reconnaissance" around the headquarters of MI6, the Houses of Parliament, and around Downing Street.
"It is, you can conclude, no coincidence that the defendant was apprehended in Whitehall," he told jurors.
Moments before the arrest by armed police - who seized weapons from jacket pockets and the waistband of his tracksuit bottoms, the court was told - Ali was said to have deliberately dropped his mobile phone in the River Thames.
When he was apprehended, he told officers "he did not care" about the safety of the public and added: "You lot are carrying weapons, so you must know you are in danger."
Ali denies a charge of preparing terrorist acts in Britain in relation to the incident, as well as two charges of possessing explosives with intent abroad from 2012.
(c) Sky News 2018: Westminster terror plot suspect Khalid Ali 'reported to police by his mum', court hears