Woman convicted of homophobic hate crime at Pride march
4 October 2019, 16:52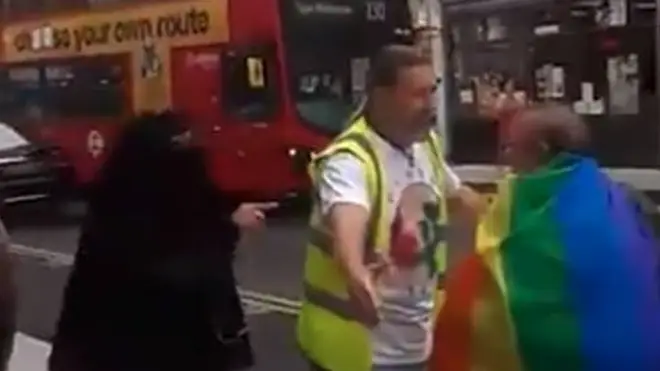 A woman has been convicted of shouting "shame on you" at people taking part in a Pride march in east London.
Jamila Choudhury, 38 from Walthamstow, was given a three month prison sentence, suspended for 12 months after she was filmed shouting "got created Adam and Eve, not Adam and Steve" at people taking part in the march in Walthamstow in July.
Choudhury was also given a rehabilitation order after being found guilty of an aggravated public order offence at Thames Magistrates' Court on Thursday.
Choudhury was also ordered to pay a victim surcharge and £100 compensation.
It emerged the person on the receiving end of her tirade was former Big Brother contestant Carole Vincent who came fifth in the eighth series of the show in 2007.
Choudhury was arrested two days after she was filmed hurling abuse in the street during the parade on July 27 in Hoe Street, Walthamstow.
She was seen shouting homophobic abuse and her actions were filmed in a video that was shared widely on social media.
The footage posted on social media showed Choudhury, wearing a niqab, repeatedly shouting "shame on you" at participants.
Disgusting homophobic abuse at those on Waltham Forest Pride today.

No matter what form hate comes in, we must stamp it out and say no to all forms of hate! Also, very importantly we cannot call out one form of hate but be silent/complicit on others. @GalopUK @stonewalluk pic.twitter.com/kDAFoAb8Vw

— Yusuf Patel (@YusufJP_) July 27, 2019
She can be heard in the clip saying: "God created Adam and Eve, not Adam and Steve.
"Shame on you, shame on all of you. Shame on you, you despicable people. Shame on you, you shameless people."
DCI Seb Florent from Waltham Forest said: "The horrible homophobic comments made by this woman shocked and alarmed not just those out on the Pride event but so many more on social media as footage of this offence circulated far and wide.
"I would like to praise those who came forward and gave information. This case illustrates our determination to act and bring to justice anyone who thinks hate crime, in any form, is acceptable."