Your morning news briefing, 1st November 2019
1 November 2019, 05:59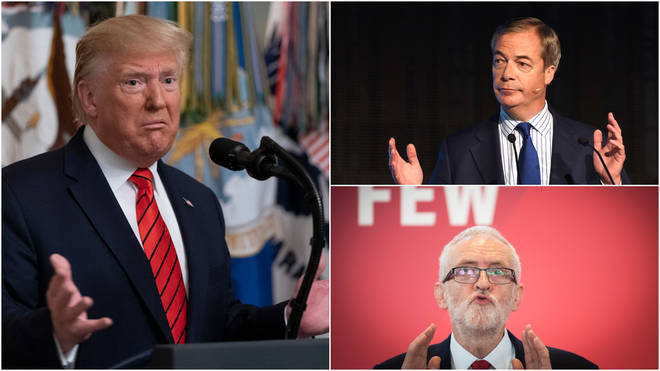 Good morning and here is the latest in UK and world news you're waking up to.
On the first day of the month, it's EJ here with all of the information you need on Friday morning.
Trump...
In a world exclusive the US President spoke to Nigel Farage on his LBC show. The President spent half an hour discussing issues.
Mr Trump even suggested if Boris Johnson teamed up with Nigel Farage the two would be an "unstoppable force."
The President told Nigel: "If you and he get together, you know, unstoppable force and Corbyn would be so bad for your country.
The controversial US President blasted the Labour leader saying he would be "so bad for the country."
In an unmissable interview, the President makes some frank admissions to Nigel.
- Boris Johnson, Jeremy Corbyn and Brexit
- The NHS
- Future trade deals with the UK
- ISIS
- The case of teenager Harry Dunn
- ...and his love for the British royal family
LBC's Political Editor, Theo Usherwood said the interview could have "far-reaching implications for this general election campaign, both for Labour and the Tories."
Read Theo's analysis of the interview here.
Corbyn hits back at Trump
As my colleague Kate Buck reported last night, just moments after the world exclusive interview on LBC, Jeremy Corbyn hit back at the President.
On Twitter the Labour leader said: "Donald Trump is trying to interfere in Britain's election to get his friend Boris Johnson elected.
Read Kate's whole article here.
Donald Trump is trying to interfere in Britain's election to get his friend Boris Johnson elected.

It was Trump who said in June the NHS is "on the table". And he knows if Labour wins US corporations won't get their hands on it.

Our NHS is not for sale.pic.twitter.com/AUhht3pCgL

— Jeremy Corbyn (@jeremycorbyn) October 31, 2019
Brexit and the Labour leader
Yesterday was a big day for Jeremy Corbyn, he used his first speech in the General Election campaign to set out his promises.
As I reported yesterday Mr Corbyn used the opportunity to accuse Boris Johnson and the Tories of only protecting "the privileged few," and suggesting while they care about the rich members of society they have cut "vital services and support for everyone else."
But, when it came to Brexit the Labour leader was clear, he promised if he is elected then his government will "get Brexit sorted" within "six months."
Harry Dunn Case: Police Interview US Diplomat's Wife
Officers from Northamptonshire Police travelled to the US to interview Anne Sacoolas, the wife of an American diplomat who left the country following a collision.
Mrs Sacoolas is believed to have been driving on the wrong side of the road when she hit Mr Dunn's motorbike outside RAF Croughton on August 27.
The 42-year-old, a wife of a US diplomat, was granted diplomatic immunity after the case, which has since been disputed by the lawyers acting on behalf of the teenager's family.
Police confirmed they have passed a file to the Crown Prosecution Service.
Croydon Tram Crash: No Charges
The driver of a tram which crashed and killed seven people in Croydon will not face any charges due to insufficient evidence.
Another 62 people were injured after the tram came off the tracks at almost four times the speed limit near Sandilands tram stop on 9 November 2016.
The Rail Accident Investigation Branch had previously concluded the incident was likely due to the driver temporarily losing awareness - they suggest he may have fallen into a "microsleep" for up to 49 seconds.
And Finally...
With a punny headline from the National Crime Agency, two men who were "up to no gouda" have been jailed.
The pair were using gone off cheese to hide cannabis.
The two men imported half a tonne of cannabis in two consignments of grated pizza cheese and salad toppings
The drugs, which police said was valued at around £5m, were discovered at Dover Docks by customs officers.
That's it, you're up to date. I'll be back on Monday morning, but until then have a great weekend.