Your morning news briefing, 8th November 2019
8 November 2019, 06:18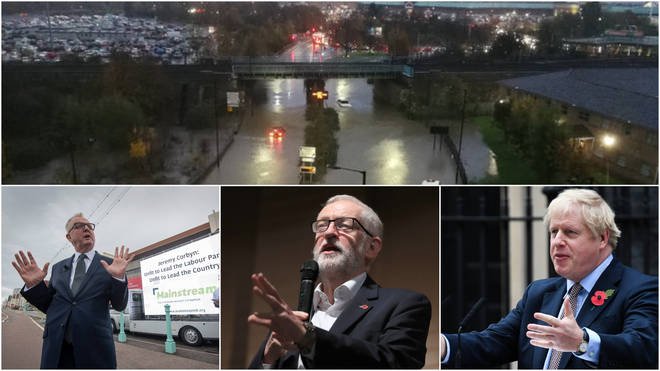 Good morning and here is the latest in UK and world news you're waking up to.
Happy Friday! It's EJ here with all the news and info you need to kick start your Friday and move effortlessly into the weekend.
General Election: 2019... Day 2
The weekend won't mean a break for politicians, election campaigning will kick into a higher gear as thousands of local activists will be out in constituencies across the country knocking on doors, and telling people why you should vote for their party.
But, you can't do that unless you are registered to vote. You only have until the 26th of November to register, and you can do it here.
Thursday did not start well for the Labour Party, the morning news focused on the shock resignation of deputy party leader Tom Watson, but the media focus quickly switched to Ian Austin.
The ex-Labour MP appeared in the press saying "decent traditional patriotic Labour voters."
LBC News spoke to Mr Austin, who told us "Jeremy Corbyn's completely unfit to lead our country."
When asked why he said Mr Corbyn "always backs our country's enemies, whether that was the IRA in the Troubles or describing terrorist organisations like Hamas and Hezbollah as his friends, or parroting the Putlin line when the Kremlin have sent people to murder people on the streets of Britain."
You can read the full story here.
Later focus shifted to the Tories, the party's candidate for Broadland announced he was standing down over his "ill-judged comments" during a radio discussion about a rape case.
Former BBC Radio Norfolk presenter Nick Conrad was selected on Wednesday to stand for Broadland despite the controversy over his comments in 2014 saying women should "keep your knickers on".
But following heavy criticism of his selection, he said on Thursday he would be standing aside as the media attention was becoming a "distraction".
Both parties used yesterday to announce a whole swathe of measures to improve the economy, and today the Tories have focused on the NHS while Labour announced they will improve the workplace for women.
You can find out more about today's announcements here.
Today campaigning will continue across the UK.
LBC EXCLUSIVE: Ferry Across The Thames
The Mayor of London and TFL have been accused of 'wasting' 20 million pounds on two new ferries which have been plagued by faults.
LBC Correspondent Rachael Venables looked into the matter:
Weather.. Wet
Remember yesterday's morning briefing where I suggested you take an umbrella?
Parts of northern and central England have been brought to a standstill - after half the rainfall for the whole of November came down in a few hours.
This meant Christmas shoppers were trapped inside Meadowhall Shopping Centre in Sheffield after the area was deluged with a month's worth of rain.
Earlier in the evening, the annual Christmas Live event was cancelled over fears river could put festive revellers at risk.
Sheffield police have confirmed people were being kept inside for their own safety, and pictures from the inside show all the shops have been shut.
Authorities are advising people to check before they travel. Listen to LBC News for the latest travel and weather.
We spoke to someone trapped inside the centre.
Thankfully it will be largely dry on Friday and sunniest towards the west.
Today: Away from scattered showers along the south coast, most places will start dry and bright. Thickening cloud will bring a few showers later in the morning, clearing into the afternoon. The best of any sunshine will be across western areas.
Tonight: Staying dry through the evening and overnight. Skies will clear, with one or two mist of fog patches possible. Turning cold, with a frost in places.
Taser Death
A police constable has been charged with the murder of former Aston Villa footballer Dalian Atkinson, who died after being Tasered near his father's home in Telford in 2016.
You can read the full story here.
Shark Attack
A missing British tourist is believed to have been eaten by a shark after a human forearm and a hand still wearing his wedding ring was found inside the creature's stomach.
The suspected attack victim has not been named but is believed to be a 44-year old British national from Scotland who was on holiday on the island with his wife.
Read the full story by Sylvia De Lucia here.
And Finally...
Meghan Markle has revealed that baby Archie has got his first teeth.
The Duke and Duchess of Sussex were meeting families from the Welsh Guards, Coldstream Guards and Household Cavalry on Wednesday when they visited a regular coffee morning at Windsor's
As Meghan met a young child who proudly showed off her smile, she told the tot: "Yes, look at all your teeth. Archie has got two teeth - tiny ones right here," before pointing to her lower jaw.
That's it, you're up to date. Have a cracking weekend and I'll be back on Monday when we'll do this all over again. EJ