Your morning news briefing, Friday 11th October
11 October 2019, 02:18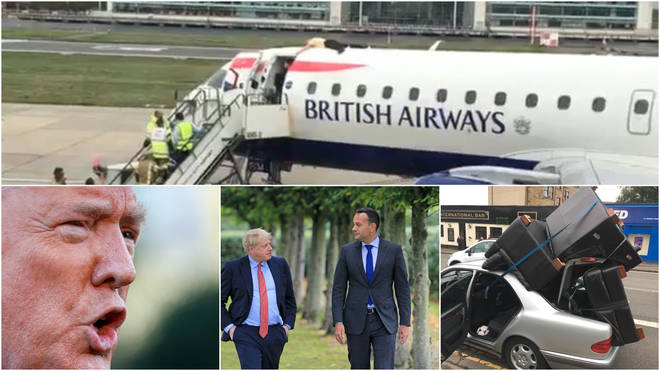 Good morning and here is the latest in UK and world news you're waking up to.
It's finally Friday and almost the weekend. EJ here with all the news you need to kick start your day.
Don't forget Global's Newsroom is here round the clock to keep you up to date with the latest news, so even if you're not working we are.
Global's Make Some Noise
It's Global's Make Some Noise Day. The Newsroom comes together with our sister radio stations in the Global family, LBC, Heart, Capital, Gold, Smooth, Radio X, Classic FM and Capital Xtra, to raise money for small projects that don't get heard.
Make Some Noise Day is on Friday 11th October – and we'll be Dressing Loud, taking part in exciting challenges and giving you the chance to win some fantastic prizes.
Join the noise and get involved.
Extinction Rebellion Protests
The climate change protests which have closed off parts of London enter their fifth day. Yesterday protesters attempted to carry out demonstrations at London City Airport.
At one point former paralympian James Brown was sitting on top of a British Airways plane that was waiting to depart to Amsterdam Sciphol Airport.
The London 2012 bronze medal paracyclist was on top of the plane for more than an hour before police brought him down and arrested him.
In a Facebook video, Mr Brown admitted his fear of heights. He said: "I'm on top of a f****** aeroplane at City Airport. I hate heights, I'm s******* myself. I managed to get on the roof."
The former paralympian was not the only one arrested, late on Thursday the Met said they had arrested more than 1,000 people since the protests began.
Global's Newsroom was invited into Brixton police station, which houses one of London's largest custody centres, where a senior officer showed us the cells and said they had plenty of room left.
Brexit, Boris, London Assembly, Boris...
The Irish Premier has said he thinks a Brexit deal is possible by Halloween deadline at the end of the month.
Following more than two hours of talks at Thornton Manor in The Wirral, Merseyside, the two leaders said they believed a deal was "in everybody's interests."
In a joint statement, they said they would now "reflect further" on their discussions while their officials would continue to "engage intensively."
A small number of demonstrators gathered outside, Global's Newsroom was on hand to speak to them:
London Assembly "Frustrated" By Boris Secrecy
Yesterday I reported to you the ongoing issues Boris Johnson is facing with regards to his former job.
The City Hall oversight watchdog is looking into whether Mr Johnson misspent public funds on a friend when he was Mayor of London.
On Wednesday they branded his response to their questions "insufficient," on Thursday they have said it is "unclear" why Mr Johnson wants his response to them kept secret, and demanded he let them know by Monday.
The London Assembly says it's considering its next steps as it looks into whether businesswoman Jennifer Arcuri was treated favourably.
Mr Johnson has previously accused his "old friends" in the Assembly of "barking up the wrong tree" with their investigation.
Funding Boost For Schools
Teachers across England will find out later just how much their school will be getting from the £14bn the Prime Minister promised would go into primary and secondary education.
A three-year plan to increase school spending by £7.1 billion by 2022/23 was announced by ministers last month.
The move came after years of lobbying by heads and teachers for more cash.
Global's Newsroom visited a school in the West Midlands and spoke to Education Secetary Gavin Williamson to find out all the details:
Cancer
Almost one in four women, previously treated for breast cancer, say they visited their GP at least three times before being told the condition had returned.
The charity Breast Cancer Now also says their survey shows a fifth were treated for something else.
The Royal College of GPs say medics are highly trained, but some symptoms "are very difficult to interpret".
"No Increased Risk To Health" Around Grenfell Tower
The Government has reassured the Grenfell community that the area is safe from dangerous chemicals in the soil.
Environmental checks show the level of chemicals in the soil around Grenfell Tower are consistent with the general levels found in other parts of London.
Initial inspections have shown there is no increased risk to health in the aftermath of the fire and a second stage of tests will be carried out to provide further reassurance.
Trump's Turkey Tweets...
As US President Donald Trump takes to Twitter to say that Turkey is now "attacking the Kurds" who have been "fighting each other for 200 years," following a Turkish invasion of parts of northern Syria, aid agencies have warned of a of a growing humanitarian crisis in the region.
Turkish President Recep Erdogan has warned the EU not to call Ankara's incursion into Syria an 'invasion,' as he threatened to "open the gates and send 3.6 million refugees your way,"
The Turkish offensive began just days after President Trump announced he was withdrawing America troops from a part of Syria that had been reclaimed during conflict between the US and Islamic State.
Oddly, Mr Trump defended his decision to withdraw support from the Kurdish forces allies in Syria by suggesting they did not help the US during the Second World War. He used Normandy as an example.
And Finally (in a segment I am renaming 'do not strap a sofa to your car roof')...
Police in Scotland have shared a photo of a car stopped by traffic officers in Glasgow.
The officers stopped the vehicle because of the sheer number of sofa chairs strapped to it. The photo shows chairs on the roof, in the boot and wedged between the other sofas.
Police said the driver was given advice about how to "transport couches in the future."
(EJ's tip, home delivery).
That's it, you're all caught up on the Global's Newsroom morning briefing. I'll be back tomorrow with a roundup of the week in a bumper Saturday edition.