Your morning news briefing, Monday January 6
6 January 2020, 06:49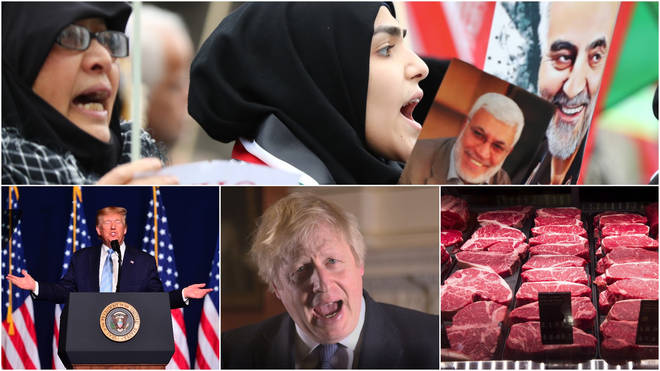 Good morning, here's all the UK and world news you're waking up to as much of the nation goes back to work for the first time in 2020.
Morning, EJ here (trying very hard not to write 2019), welcome back to work and I hope you can remember all your passwords, and been able to login, you're reading this so that's a start.
Iran - The Latest
As tensions continue between the US and Iran, world leaders have called for a de-escalation between the two countries.
Donald Trump has used Twitter to threaten Iran, the US President said: "The United States just spent Two Trillion Dollars on Military Equipment. We are the biggest and by far the BEST in the World! If Iran attacks an American Base, or any American, we will be sending some of that brand new beautiful equipment their way...and without hesitation!"
Meanwhile, Boris Johnson has said "we will not lament" the death of Iranian general Qasem Soleimani, describing him as "a threat to all our interests".
Alongside his French and German counterparts, Emmanuel Macron and Angela Merkel, the PM has called for all sides to work towards an urgent easing of tensions in the Persian Gulf.
The three leaders released a statement late on Sunday night saying while Iran must stand condemned for the negative role it has played in the region, "there is now an urgent need for de-escalation".
The Prime Minister warned that "all calls for retaliation or reprisals will simply lead to more violence in the region" - adding that the UK "is in close contact with all sides to encourage de-escalation".
"We call on all parties to exercise utmost restraint and responsibility. The current cycle of violence in Iraq must be stopped," the joint statement said.
Politics Labour
Labour's ruling National Executive Committee will meet today to officially set the timetable for its leadership contest.
The race is expected to begin tomorrow, with the new leader in place by the end of March.
Five candidates have put themselves forward so far to replace Jeremy Corbyn.
Whopper Whoops
Burger King's launching a plant-based version of its Whopper - but vegetarians and vegans won't be able to eat it.
That's because the soy-based alternative is cooked on the same grill as the beef used in the restaurant's other products.
It says the Rebel Whopper is instead aimed at 'flexitarians' - a term used for people who eat meat but are looking to cut down.
However, one expert has said even though Veganism is increasing in popularity, red meat is essential for the human diet.
Paris Is Burning
The fire-ravaged Notre Dame Cathedral is "still in a state of peril" as there is a risk its vaulted ceilings could collapse, according to the French general overseeing its reconstruction.
General Jean-Louis Georgelin said the actual condition of the Parisian cathedral's vaults is not fully known, which means he could not guarantee "it won't fall apart".
The blaze destroyed Notre Dame's roof and toppled its 300ft, 750-tonne spire as the cathedral was undergoing renovations.
General Georgelin told French broadcaster CNews on Sunday: "Notre Dame is not saved because ... there is an extremely important step ahead, which is to remove the scaffolding that had been built around the spire.
"To make sure, we need to inspect the vaults, to remove the rubble that is still on them, it's a very difficult work that we have started."
Divorcuary
Lawyers say they expect more couples to file for divorce today than any other day of the year.
They say marriages breaking down under the pressure of Christmas are to blame.
In a survey of 2,000 married couples in the UK, one in three ranked their relationships as unhappy or only "somewhat" happy.
Pay Day
Top bosses are expected to have already made the equivalent of the average worker's annual wage by 5pm today.
A study shows the typical FTSE 100 chief executive earns around £900 an hour - compared to a UK-wide average of £14.00.
2020 will be the first year that publicly listed firms will have to explain pay levels of bosses.
The Truth Is Out There
The first British astronaut to go into space says aliens exist and might already be here on earth.
Dr Helen Sharman told the Observer magazine that they might live among us, but we may not be able to see them.
Dr Sharman made history when she participated in a mission to the Soviet space station in 1991.
Weather
Headline: Rain moving east. Windy in the north.

Today: A dry, cloudy start across much of the UK with rain moving east. This heavy at times, especially over hills in the west. Mild, but windy across Scotland and northern England. Rain clearing in the west later with some sunshine.

Tonight: Rain clearing eastern areas with a few showers across Scotland. Dry elsewhere with clear periods and perhaps a few mist and fog patches in the south.


And Finally...
A London strip club could lose its licence after customers claimed they were conned out of thousands of pounds while drunk.
SophistiCats, which bills itself as the capital's "premier" lap dancing club, on Eversholt Street in Euston, Camden, could lose its Sexual Entertainment Venues (SEV) licence next week after patrons alleged they were victims of fraud.
The Metropolitan Police and Camden Trading Standards have both recommended that the licence is not renewed by Camden Council on January 9.
It comes after one customer, who works in finance, told police he woke up to find credit card receipts totalling £50,000, after visiting the venue on February 27 2019, according to a report by Camden Council.
The man claimed he did not remember agreeing to pay the amount, which included £28,000 charged to his credit card "in the last few minutes" before he left the venue.
He told police he first visited the SophistiCats club on Brewer Street in Soho at about 2.15am, before later being transported by car to the Eversholt Street venue, which he had no recollection of.
That's it, you're up to date. I will return at the same time tomorrow, but until then, Happy 2020 and have a great day. EJ