Your morning news briefing, Thursday 12 December
12 December 2019, 06:33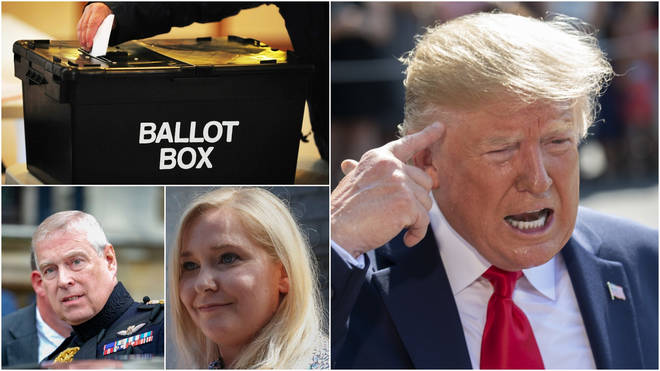 Good morning, here's all the UK and world news you're waking up to on this Thursday polling day.
General Election 2019 - Polling Day
Well, it's been a six-week campaign, but the day is finally here. Millions of people across the nation will drive to school halls, walk to post offices, pubs, or other polling stations to vote.
When you walk into the polling booth, with your polling card and little pencil, you get to be involved in democracy, and it's a wonderful feeling.
The polls open at 7am and close at 10pm, you can find out everything you need to know about polling day here.
Once the polls close at 10pm the exit polls will be issued and the counts will start.
Follow all the twists and turns on election night with Britain Decides, hosted by Iain Dale and Shelagh Fogarty.
LBC is broadcasting our most extensive election night programme ever, simulcasting a fully-integrated results show both on radio and in HD video.
While Iain and Shelagh bring you the latest news, analysis and reaction on election night, Martin Stanford will be in the LBC Data Centre, a brand new augmented reality studio to bring the latest results and the biggest stories of the night to life.
In the Election Hub in the heart of Global's news operation, LBC presenter and No.10's former Head of Broadcast Tom Swarbrick and LBC's Political Editor Theo Usherwood will provide further expert analysis and commentary.
There will be a wide variety of big-name politicians and commentators to give their reaction, including Nicky Morgan, Jacqui Smith, Sir Michael Fallon, Lord Chancellor Lord Charlie Falconer and Sir Vince Cable, as well as the Mayor of London Sadiq Khan.
Trump
The House Judiciary Committee meet on Wednesday to consider formal articles of impeachment against the US president - over claims he abused his power and obstructed Congress's ability to investigate.
The Congressional committee took the first steps toward voting on articles of impeachment against Donald Trump.
The committee sat in a rare evening session to edit the articles against Mr Trump.
The hearing, titled "impeaching Donald John Trump, president of the United States, for high crimes and misdemeanours," was opened by Judiciary Committee chair Jerold Nadler.
The next move is for the panel to decide if they wish to adopt one or both of the articles, if they do it would only be the fourth time in the history of the US.
The full House could then vote as early as next week on whether to impeach President Trump.
If approved, the Senate would hold a trial in early 2020, to decide whether to remove the president from office.
Prince Andrew
Virginia Roberts Giuffre has announced on Twitter that she is "not suicidal" in case something were to happen to her, adding that "many evil people" want her silenced.
Virginia Roberts Giuffre has repeatedly alleged that she was trafficked by convicted sex offender Jeffrey Epstein and forced to have sex with Prince Andrew in 2001 when she was 17.
In response to a tweet written about her that said "F.B.I. will kill her to protect the ultra-rich and well connected...", the mother-of-three informed her followers she was not suicidal in "no way, shape or form".
Virginia Roberts Giuffre added: "If something happens to me - in the sake of my family do not let this go away and help me to protect them. Too many evil people want to see me quieted."
Prince Andrew has denied any form of sexual contact or relationship with Ms Giuffre Roberts and said that he has no recollection of meeting her.
Lorry Patrol Car Crush
A police officer attending the scene of a lorry that had toppled over in high winds had to call for support after a second lorry fell and crushed his patrol car.
The police car, which was static at the time, was "carrying out scene protection" after the first lorry had toppled over between two carriageways on the A1 between Haddington and Dunbar at around 10.15am on Tuesday.
Shocking footage from inside the car captured the moment it was squashed by the HGV on the Tyne Bridge.
Sergeant John Easton, from Police Scotland's Road Policing Unit, had been inside the vehicle moments before the lorry toppled.
The officer's boss described him as being "as cool as a cucumber" when he got on the radio to ask for help: "We need to close the A1 now: a lorry has just toppled onto my patrol car. And I just polished it yesterday!"
And Finally...
Police have been left baffled after hundreds of dead starlings were found on a rural road in north Wales.
100s of dead starlings have died on an unclassified road in Anglesey. Some have been seized for tests. At this stage we are keeping an open mind as to the cause of death. pic.twitter.com/bLXWakIXlK

— Tîm Troseddau Cefn Gwlad HGC/ NWP Rural Crime Team (@NWPRuralCrime) December 11, 2019
225 of the birds were found on the "unclassified road" in Anglesey, while "many others" were in the hedges lining the lane.
North Wales Police said the incident, reported around 3.40pm on Tuesday, was "very strange" and they "didn't know how it had happened."
That's it, you're up to date. I will be back in from 3am tomorrow but there won't be a morning news briefing because of the General Election, make sure you check out our live broadcasts though and you might catch me in the background. Have a great weekend, EJ.