Your morning news briefing, Tuesday 19th November
19 November 2019, 06:05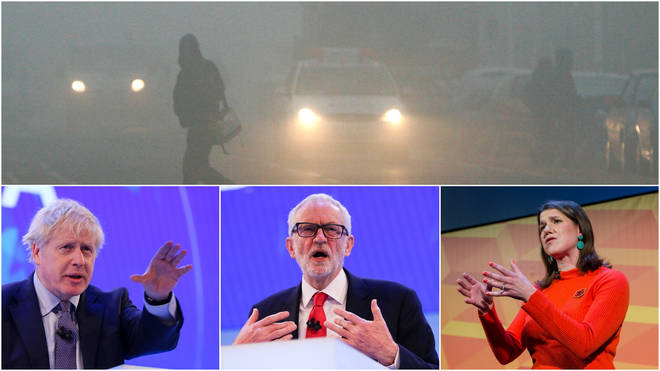 Here's all the UK and world news you're waking up to on this foggy Tuesday morning.
Good morning, as I said in my intro, it's foggy, so wrap up warm! EJ here helping you kickstart your day right.
General Election - The Debate Stage
With just 23 days until the nation goes to the polls the campaigning has now entered the televised debates stage.
Later, Boris Johnson and Jeremy Corbyn will face off against one another in a head to head debate, this comes as a blow for the Lib Dems and SNP who had attempted to be included.
Yesterday the High Court judges ruled there was "no arguable breach of the Broadcasting Code" and that the parties' only recourse was to complain to media regulatory body Ofcom.
The debate takes place as:
- The Conservatives promised they would legislate to ensure adults convicted of murdering a child spend the rest of their life in prison in all but "exceptional" circumstances.
- Shadow chancellor John McDonnell accuses the Tories of handing tax breaks to billionaires, saying such levels of wealth are "obscene".
- The Lib Dems pledge to put 1p on income tax to provide an additional £35 billion for the NHS.
- First Minister Nicola Sturgeon calls for immigration powers to be devolved from Westminster to to Scotland.
- The Greens launch their election manifesto with a pledge to invest £100 billion a year in tackling climate change.
It's sure to be an interesting debate, and you can follow all the events as they happen on LBC News.
Yesterday all three main parties visited the CBI conference and tried to woo business leaders with their plans.
Winter is coming...
Now the big news of the day, take a coat and a scarf when you go out. Temperatures across the UK plummeted overnight with parts of Scotland predicted to ready -8.1!
This morning you're waking up to news the Met Office has issued an urgent weather warning over freezing fog which is set to blanket a large swathe of the UK today.
And yes, as soon as the UK has a bit of adverse weather, experts are warning of potential travel chaos.
The police are urging people to defrost their cars properly, and I am preparing to write a news story about someone who only defrosted a tiny patch on the drivers side.
Listen to LBC News on AM and Digital Radio
Frost and ice this morning. Please don't leave your vehicle unattended with the engine running to defrost icy windows. Opportunist thieves love a frosty morning.

Ensure you clear all ice from your windscreen before setting off and you can see clearly. pic.twitter.com/6NYo7d80WE

— West Yorkshire Police (@WestYorksPolice) December 4, 2018
Pizza Express Prince
TV's Dr Hilary Jones has expressed his misgivings over Prince Andrew's claim in a sensational interview that he is unable to perspire.
Prince Andrew said in the interview with Emily Maitlis that Virginia Giuffre's claim that he was "sweaty" in a nightclub in 2001 could not be true because he has a condition which means he cannot sweat at all.
The Duck of York said the condition was caused by "an adrenaline overdose during the Falklands war" when he was shot at.
Dr Hilary said: "As for the adrenaline thing in the Falklands, it doesn't make sense, because sweating isn't mediated by adrenaline, it's mediated by acetylcholine.:
Listen to LBC News on Mobile and Smart Speakers
And Finally... The One With The Photo And The Crying
Jennifer Aniston has thanked fans after reaching 20 million Instagram followers - just over a month since she joined the social media platform.
The actress enjoyed a record-breaking start to life on Instagram and became the fastest account to reach one million followers.
It took Aniston just five hours and 16 minutes after she posted a selfie of her and her Friends co-stars.
The Morning Show star is now celebrating another milestone, reaching 20 million followers since joining Instagram on October 15.
Alongside a video of her wiping tears from her eyes, she wrote: "20 million followers?! That's a lot of thank you notes! THANK YOU, GUYS."
That's it, you're up to date. Remember to wrap up warm, take care when you travel, and head back here tomorrow at the same time for more news from me. EJ