Your morning news briefing, Tuesday 8th October
8 October 2019, 06:28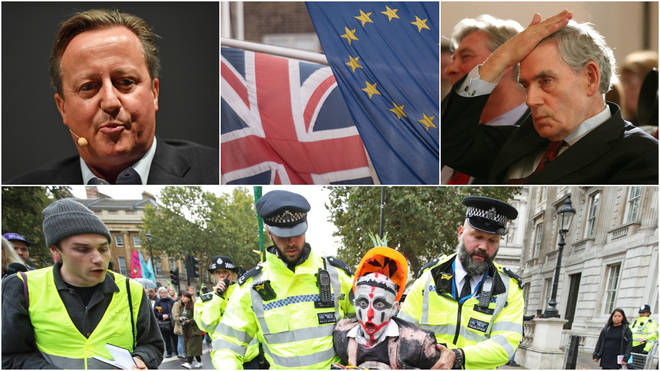 Good morning and here is the latest in UK and world news you're waking up to on Tuesday morning.
EJ here with all the news you need to kick start your morning.
Extinction Rebellion Protests
Tuesday sees activists beginning their second day of climate change protests in central London.
Extinction Rebellion members are planning two weeks of demonstrations around the world, calling on governments to take urgent action to protect the planet.
On Monday protestors brought parts of Westminster to a standstill. In Trafalgar Square demonstrators locked themselves to a hearse.
The Metropolitan police have confirmed 280 people have so far been arrested as part of the protests.
Speaking at a launch event for a book on Margret Thatcher, Prime Minister Boris Johnson dismissed the protestors as "uncooperative crusties" who should stop blocking the streets of the capital with their "heaving hemp-smelling bivouacs."
Commuters in London are advised to check their routes before they travel. You can use the Global's Newsroom live travel indicator for the latest.
Brexit and Boris
Yesterday two former Prime Ministers issued warnings on Brexit. Speaking to Global's Newsroom former Labour PM Gordon Brown likened a no-deal Brexit to a "self-inflicted wound."
Mr Brown said it was "like putting a gun at your own head and threatening to shoot if you don't get your own way."
While former Tory PM David Cameron warned Mr Johnson that "you can't disobey the law as prime minister," and urged him to comply with the Benn act which obliges Boris Johnson to seek a Brexit delay if he cannot get a deal.
Back to the former Labour PM, Mr Brown warned that "no responsible government should be going ahead with a no-deal Brexit."
Boost for Lib Dems
The Lib Dems received a further boost with the announcement that former Tory MP Heidi Allen has become the latest defector to join the party, taking their tally of MPs to 19.
Ms Allen said: "Beyond a shadow of a doubt, I know that the best way to serve my constituents and country is to join the Liberal Democrats."
The move caused some Westminster wags to joke that unless a General Election was called the Lib Dems could end up with a majority in the Commons through defections alone.
On the subject of a General Election, time is running out for one to take place before Christmas.
By law, Parliament has to be dissolved 25 working days before a general election.
For an election on November 28, dissolution would need to take place on October 24, which would be just ten days after the Queen's Speech.
Mental health by Royal appointment
An advert narrated by the Dukes and Duchesses of Cambridge and Sussex for a mental health campaign caused so many people to watch it, the charity's website crashed.
The video featuring the Royals is an initiative from Public Health England and the NHS to empower people to manage the early symptoms of poor mental health.
William, Kate, Harry and Meghan lent their voices to the advert in order to boost its reach.
However, within minutes of its broadcast the Every Mind Matters charity's website crashed because of the surge in traffic.
Trump's Tweets
Taking to Twitter US President Donald Trump has threatened to 'destroy and obliterate' Turkey's economy.
The controversial US President threatened the Turkish economy if the country uses "off-limits" actions in a forthcoming military offensive in Syria.
Mr Trump previously gave Turkey an effective green light to commence a military operation against US-allied Kurdish fighters in northern Syria.
Meanwhile, a US federal judge has rejected Donald Trump's claim that a sitting president is not "subject to the criminal process" saying it defies the US constitution.
President Trump challenged a subpoena demanding the release of his tax returns arguing he was immune from criminal investigations.
And finally...
The deadline for Boris Johnson to give details to the London Assembly of his "personal, social and professional" contact with Jennifer Arcuri is the end of play today.
Around the same time, the Prime Minister will achieve prorogation of Parliament. The Commons will shut down at the end of the day until the Queen's Speech on Monday 14 October.
Stay with Global's Newsroom through the day as we bring you the latest news as it happens and the big breaking stories.