Your morning news briefing, Wednesday 9th October
9 October 2019, 01:59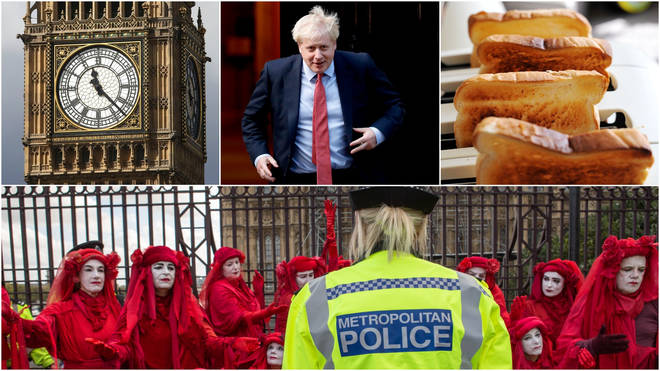 Good morning and here is the latest in UK and world news you're waking up to.
Happy Wednesday, the middle of the week has arrived. EJ here with all the news you need to kick start your morning.
Extinction Rebellion Protests
This morning climate change protests, which have brought parts of Westminster to a standstill, will move into their third day.
Police used scissors to cut up tents and remove demonstrators who were blocking roads in central London.
After two days of protests, the Met said they have arrested around 600 people.
The group say they are hoping to get the Government to toughen its environmental laws.
Women are planning to breastfeed their babies in Westminster later as part of more climate change protests.
They say the action is to highlight the number of children who've died and will die unless action is taken.
The protest group also announced that from Thursday they planned to stage their "biggest action" yet when more than 100 demonstrators will attempt to shut down London City Airport.
You can read all the details here.
Brexit, Brexit... Brexit
The Government announced they plan to set up a "support unit" for suppliers of medical goods for the health sector in the event of the UK crashing out of the EU with no agreement at the end of the month. That was just one of the measures in a report on the UK's preparedness for a no-deal Brexit.
But, the man in charge of the UK Government response to a no-deal scenario Michael Gove said: "It is the top priority of this Government, and principal focus of my job, to get ready for Brexit on October 31 with or without a deal.
"We would prefer to leave with a deal, and continue to work in an energetic and determined way to achieve one, but we must be prepared for all eventualities."
The President of the European Parliament met with Boris Johnson on Tuesday, after the meeting he said no progress towards a Brexit deal was made during the meeting.
David Sassoli has urged Britain to come back with serious proposals for an agreement, before warning there were two alternatives to a deal at this juncture an "extension or no deal."
20,000 Extra Police
The Home Office has revealed exactly how many extra police officers forces in England and Wales will receive as they aim to meet the Prime Minister's target of 20,000 extra officers over three years.
One of Boris Johnson's key pledges after he became Prime Minister was that he would increase police numbers across England and Wales.
The three forces with the highest recruitment target for the first year are the Metropolitan Police (1,369), West Midlands (366) and Greater Manchester (347).
Find out how many extra officers your local force will be getting here.
Diplomatic Immunity
The Foreign Secretary has urged America to reconsider granting immunity to a diplomat's wife who's accused of causing a fatal car crash in Northamptonshire.
It's understood the husband of an American woman granted diplomatic immunity following a fatal car crash wasn't registered as a diplomat in the UK.
Anne Sacoolas left the country after a collision in Northamptonshire in August which killed 19-year-old motorcyclist Harry Dunn.
But her husband's name doesn't appear on the official British government register of diplomats, and questions have now been raised about whether she's entitled to immunity.
Foreign Secretary Dominic Raab, has met the US ambassador Woody Johnson. Mr Raab has also spoken to his American counterpart Secretary of State Mike Pompeo.
Boris Finally Shuts Down Parliament
The longest session in Parliamentary history has finally come to an end, having begun 839 calendar days ago.
Parliament is now officially prorogued until 14 October following an official ceremony held on Tuesday.
Its purpose is to allow the government to set out its legislative agenda in a forthcoming Queen's speech.
This parliamentary session began on 21 June 2017, making it the longest continuous parliamentary session in the United Kingdom was formed by the Acts of Union in 1800.
And Finally...
Boris Johnson and Matt Hancock are bringing back hot, buttered toast, to every NHS ward... Yes really, read the full story here.