Ukrainian forces launch huge attack on Russia's front lines amid stuttering counter-offensive
25 August 2023, 21:14 | Updated: 25 August 2023, 21:21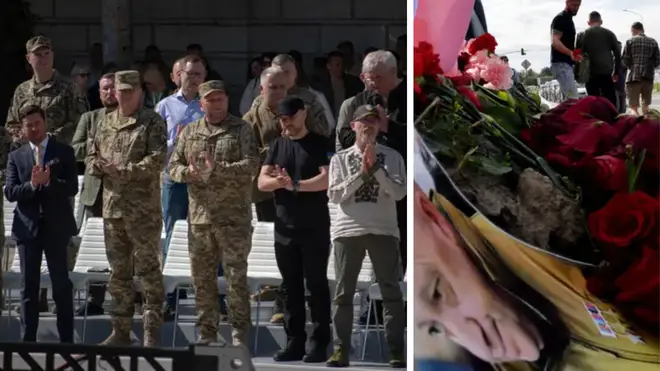 Ukrainian forces have launched a major attack on Russian positions in the east of the war-torn nation - as domestic chaos grips Putin's Kremlin.
The Ukrainian General Staff announced on Friday that there had been further gains near Novoprokopivka village and towards the settlement of Ocheretuvate.
The gains come after the recapture of the village Robotyne earlier this week - with fighting still taking place to the south of the settlement.
Read More: An unstable Russia is 'very dangerous' says Defence Select Committee Chairman after Prigozhin's reported death
The General Staff said their troops "are consolidating their positions, inflicting artillery fire on the identified enemy targets, and conducting counter-battery operations."
Russian forces have stunted the much-vaunter counter-offensive and made any Ukrainian territorial gains slow and paid for with heavy casualties.
The "Rogozin at the front" Russian military blogger claims that Ukrainians are accumulating armoured vehicles for a decisive strike upon their invaders in the east.
"The enemy is gathering forces for a decisive blow. They need to reach Verbove, then Tokmak," he wrote. "We're holding out."
Another blogger wrote "the biggest worry right now is Robotyne.
"The boys are having it really hard there. By the evening the fighting was already going on in the south of the settlement, where the enemy was."
It comes as security sources in the UK have claimed the crashed plane said to be carrying Wagner leader Prigozhin "has all the hallmarks of FSB".
Nine other people on board also died in the crash, which took place at about 6.30pm local time (4.30pm UK time) on Wednesday.
British security sources have now suggeseted that the crash of the Wagner boss' private jet was carried out by the FSB intelligence agency on Vladimir Putin's orders.
The Embraer jet crashed in a field in a rural area in the Tver region, about 215 miles north-west of Moscow. It was flying from the Russian capital to St Petersburg.
Some outlets claimed the jet had been shot down, while others said there were explosions on board.
"Of course it's Putin," one source told the Telegraph. "Putin as a leader cannot afford to be humiliated in the way that he was. Putin functions on two things: Loyalty above talent... and the consequence of betrayal.