'It's all we can do': Donations pile high as hundreds of Londoners rally round Ukraine
28 February 2022, 15:28 | Updated: 28 February 2022, 17:50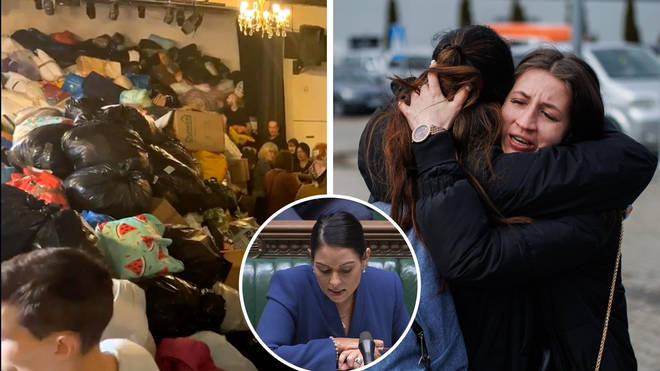 Queues of Londoners stretched around the streets of Balham on Monday as people donated clothes, blankets and food in a desperate bid to support those fleeing the warzone in Ukraine.
Towers of items piled high at the Polish White Eagle Club in south London, ready to be packed into vans and driven across the Polish border.
At least 30 volunteers were on Monday sorting out and loading up the donations of sleeping bags, medical supplies, pillows, duvets, sanitary items, sanitary wipes, toys and first aid kits - to be sent to the Polish/Ukraine border.
Volunteers said they were "overwhelmed" by the support from well-wishers in the community.
Magda Harvey, manager of the community centre, told LBC they have enough goods to fill another 10 trucks.
Olena Sedlier, a Ukrainian volunteer, told LBC she has been asking her friends and family in Ukraine "not how are you, but are you alive?"
"As long as I can stay here I will to put these things in the vans so kind Polish drivers will take it to Poland to give it to Ukrainian refugees crossing borders," she said.
Read more: Live updates: Ukraine meets for peace talks with Russia on Belarusian border
Read more: FIFA and UEFA ban Russia from all games as war rages in Ukraine
A Polish volunteer added: "We can't be there to help but at least we can help [from] here.
"It's all we can do right now because the situation is just awful - I can't even still believe it is happening in the 21st century."
It comes as the Home Secretary Priti Patel confirmed a further 100,000 Ukrainians will be able to seek sanctuary in Britain as a result of Russia's invasion.
Speaking to MPs on Monday Priti Patel said family members of British nationals who don't usually meet eligibility criteria will be allowed to stay for a year.
Those people will have to pass security checks but will have access to work and public services in Britain.
The news comes as thousands of civilians are trying to escape the violence in Ukraine, with dozens of civilians killed in a mass shelling in Kharkiv on Monday.
Read more: Putin resorts to banned 'cluster bombs' to slaughter civilians in Ukraine's second city
Krzysztof Gonder, the community centre's manager, said people from "all different communities and countries" were helping bring in donations.
"It is sad (it is needed) but I am not complaining because I believe I am working for a good cause," Mr Gonder said.
"I would help anybody who needs help in war. Ukraine is our neighbour country. So many Ukrainians live in Poland, so we feel they are part of the Polish population. They are one of ours and, therefore, we feel we need to help them.
"It is not just Polish people (here in Britain) who are helping. It is people from all different communities and countries, and from the neighbourhood."
After the items have been collected, sorted, labelled, and boxed, they are being moved to a warehouse in Croydon, south London, before being loaded on to trucks that will take them to the front line.
Approximately three truckloads had been sent to the warehouse by Monday morning, a day after the donation drive began operation, when queues stretched to the nearby tube station, which is a five-minute walk away, according to Mr Gonder.
The original plan was that Magda Harvey, of the Polish White Eagle Club, would pay for "maybe a couple" of lorries to get the items abroad but the surge in donations means that nearer "20 or 30 lorries are needed, and that is overwhelming".
Mr Gonder said: "We are looking for people who are willing to take it to Poland or to pay for transportation. We have received a few telephone calls today."