Four die in intense US 'supercell storms' as theatre roof collapses and tornadoes rampage through southern states
1 April 2023, 07:24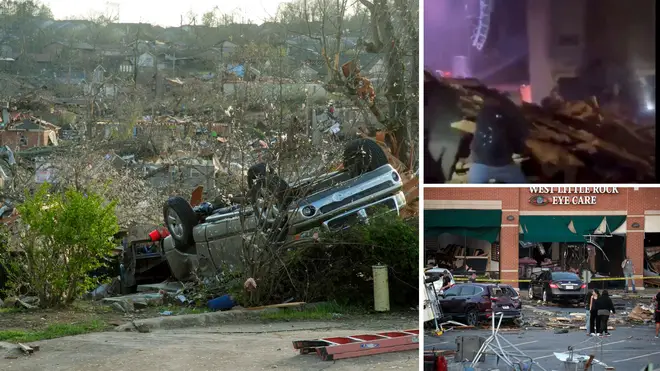 One person has died and dozens are injured after a theatre's roof collapsed in Illinois amid deadly tornadoes that are sweeping the US.
About 260 people were in the Apollo Theater in Belvidere when the roof came down just before 8pm local time, and five of the 28 people taken to hospital are in a serious condition.
The theatre, about 70 miles north-west of Chicago, was hosting a heavy metal gig.
Two people were killed in Wynne, Arkansas. Wynne City councilmember Lisa Powell Carter said the town was without power and roads were full of debris.
⚠️BREAKING: Part of the roof at the Apollo Theatre in Belvidere, Illinois has just collapsed during Morbid Angel's concert.
- possibly weather-related, as a tornado moved through area
- Belvidere is located in Boone County, about 72 miles from Chicago.#ApolloTheatre pic.twitter.com/pEIOF8mAmw

— Disidente Incontrolable (@Pjt432) April 1, 2023
"I'm in a panic trying to get home, but we can't get home. Wynne is so demolished... There's houses destroyed, trees down on streets," she said.
Cars, roofs and trees were destroyed in the storm, with more than 20 people injured in the Arkansas capital of Little Rock. Officials had said a person died in North Little Rock but no further details were revealed.
A small shopping centre there was shredded.
Read more: State of emergency declared in Mississippi after tornado kills 26 people across southern US states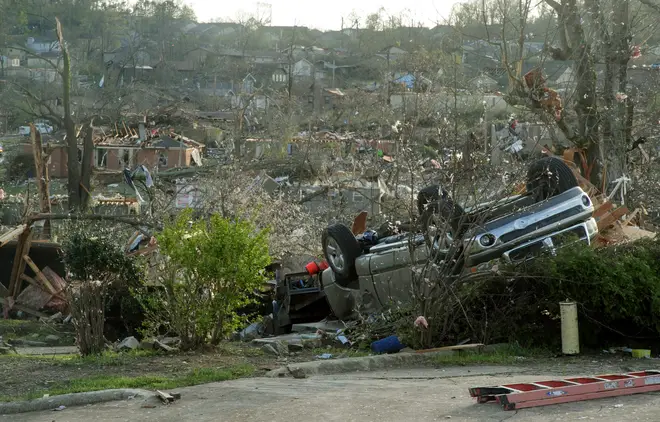 Five people are in a critical condition at a hospital in Little Rock.
"Praying for all those who were and remain in the path of this storm," said Governor Sarah Huckabee Sanders.
Read more: Storms, tornadoes and floods batter California leaving five dead
"Arkansans must continue to stay weather aware as storms are continuing to move through."
She also warned the death toll could yet rise.
"We're hopeful that it doesn't, but I think given the nature and the volatility of the situation, we're preparing that it could," she said.
Tens of thousands of Americans across the South and Midwest US have been left without any power.
Arkansas and Missouri both declared states of emergency, with the National Guard deployed in the former.
Oklahoma saw grass fires as 60mph winds fuelled them. Evacuations in the state's north east got under way.
In Chicago, planes were delayed by two hours after officials put a traffic management programme in place.
More than 40 tornadoes are thought to have hit the US over Friday night.
The National Weather Service's Storm Prediction Centre forecast an unusually large outbreak of thunderstorms which could cause hail, wind gusts and strong tornadoes that could move for long distances. These are known as "intense supercell thunderstorms".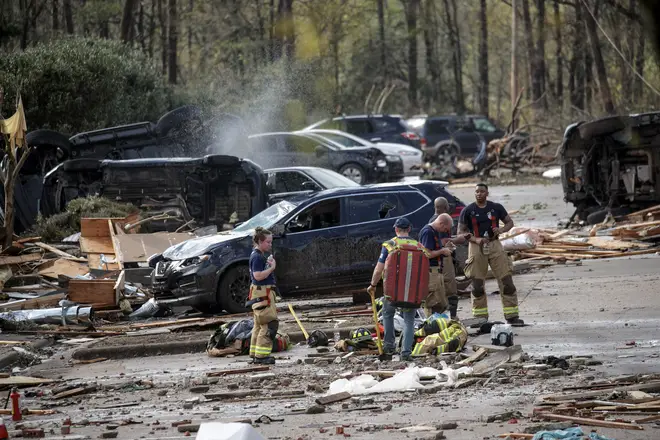 It comes just a week after a tornado killed 26 people in Mississippi, which rampaged for more than an hour – much longer than many storms.
President Joe Biden had been visiting the devastation as this new storm struck.