Woman Brawls With Two Rivals And A Man Outside Wetherspoons
10 August 2018, 12:59
An argument between three women escalates into a fight outside a Wetherspoons pub in Yorkshire whilst a cheering crowd looks on.
**Warning: This video contains offensive language and violence**
Mobile phone footage shows a fight between three women and a man in Bradford city centre in Yorkshire.
The video starts with the a blonde woman in a beige dress lying face down on the pavement outside a Wetherspoons pub.
She attempts to stand but drunkenly stumbles and falls on her back to roars of laughter from the watching crowd.
She then walks towards the fountain in the middle of the square and confronts a man in a ripped t-shirt sitting with two female companions.
During the argument, a woman in a purple dress throws a drink across the blonde woman's face before they start grappling with each other.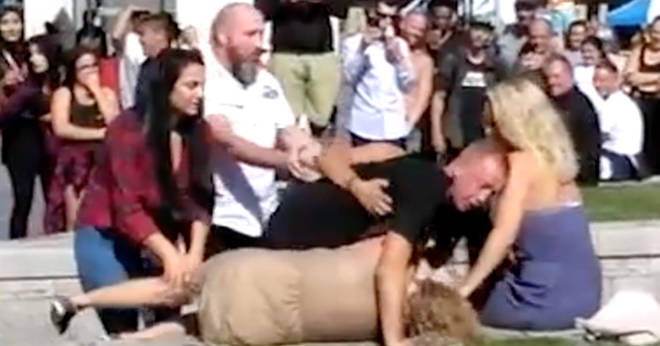 Two passers-by try to break up the melee, but their efforts prove unsuccessful as the woman in the purple dress bangs the drunk blonde female's head on the pavement.
Astonishingly, the bystanders yell and applaud even more.
Eventually, three men manage to drag the blonde woman away from the fight but the two women continue to shout at each other after being separated.
Watch the shocking video in full above.