Seal Slaps Kayaker In The Face… With An Octopus
27 September 2018, 15:43
A kayaker got the shock of a lifetime when a seal slapped him across the face with a live octopus.
Kyle Mulinder was paddling off the New Zealand coast last week when he was unexpectedly whacked.
It's believed the seal was trying to finish off its prey when Mulinder copped it in the face.
"We were just sitting out in the middle of the ocean and then this huge male seal appeared with an octopus and he was thrashing him about for ages," Mulinder told Australia's Seven News.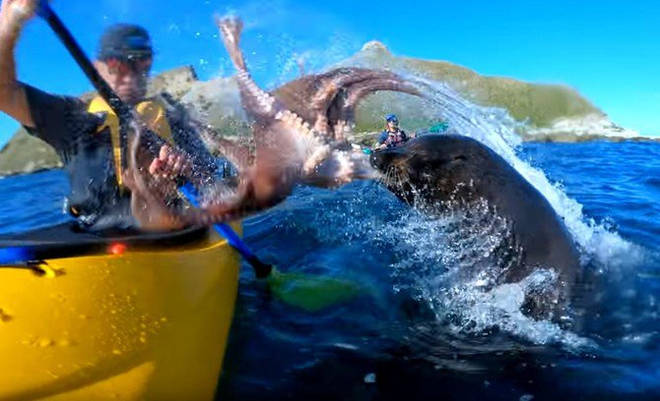 "I was like 'mate, what just happened?' It was weird because it happened so fast but I could feel all the hard parts of the octopus on my face."
The bizarre encounter was filmed by fellow adventurer Taiyo Masuda, who was testing out a new GoPro camera.
The video has since gone viral after it was shared on to social media.
"One seal swims right next to us, having an octopus in his mouth, pops right up of the surface next to us, then tries to chew up the leg but ended up slapping our face," Masuda said.
"Kyle was in the right place at the right time."