Zookeeper Punches Kangaroo In The Face: Was He In The Right?
7 December 2016, 07:42 | Updated: 7 December 2016, 08:54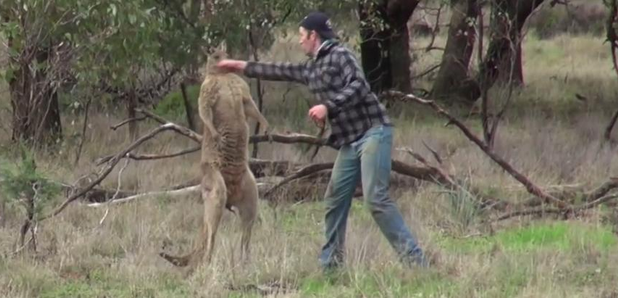 This is the video that has split the internet: is this zookeeper in the right to have punched a kangaroo after it attacked his dog?
The incident in Australia happened in June, but has gone viral this week across the world, being viewed over 16million times.

Video: Bloom Brothers/ViralHog
Greig Tonkins, an employee at Taronga Western Plains Zoo, was hunting warthogs with his dog when a kangaroo held the dog around the neck.
Mr Tonkins leapt from his truck and tried to free his dog. The marsupial released the dog, puffed out his chest and squared up to the 6'7", so he punched it in the face.
Slightly stunned, the kangaroo takes a step back and Mr Tonkins heads back to his vehicle.
Experts have suggested that Mr Bloom risked his life for his dog, with one kick to the stomach from a kangaroo able to disembowel a human.
But animal rights activists insist what he did was illegal, with PETA saying: "Punching a kangaroo in the face is neither brave nor funny, it's illegal, as is harassing native wildlife with dogs."
The incident happened during a hunting trip, which was the dying wish of a young cancer sufferer called Kailem, who has since passed away.