WikiLeaks founder Julian Assange denied bail
6 January 2021, 11:33 | Updated: 6 January 2021, 13:10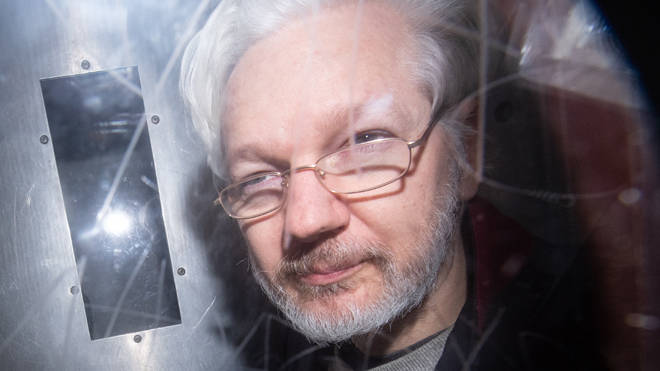 WikiLeaks founder Julian Assange has been refused bail at Westminster Magistrate's Court.
The United States government is appealing against a decision to block his extradition.
Julian Assange's partner Stella Moris was present at court for the hearing and a large crowd of protesters gathered outside, with police urging them to follow social distancing rules.
Assange entered the Ecuadorian embassy in London in 2012 to avoid extradition to Sweden to face sex offence allegations, which he has always denied and were eventually dropped.
Judge Vanessa Baraitser refused to release the 49-year-old over fears he would abscond.
It follows her decision on Monday that he should not be extradited to the US on mental health grounds due to the risk of suicide.
Assange will have to remain at Belmarsh jail while the US government appeals against the extradition ruling.
Speaking outside Westminster Magistrates' Court, Ms Moris said: "This is a huge disappointment. Julian should not be in Belmarsh prison in the first place."
"I urge the (US) Department of Justice to drop the charges and the president of the United States to pardon Julian."
WikiLeaks editor-in-chief Kristinn Hrafnsson said the decision to refuse bail would be appealed.
He said: "We think it is unjust and unfair, and illogical when you consider her (the judge's) ruling two days ago about Julian's health, which of course is caused a large part because he is being held in Belmarsh prison.
"To send him back there doesn't make any sense.
"This denial of bail will, in most likelihood, be appealed to the High Court within hours or a few days and we expect this to be overturned, because frankly it doesn't make any sense from any point of view."