Wikileaks Founder Julian Assange Sentenced To 50 Weeks In Prison
1 May 2019, 07:05 | Updated: 1 May 2019, 12:07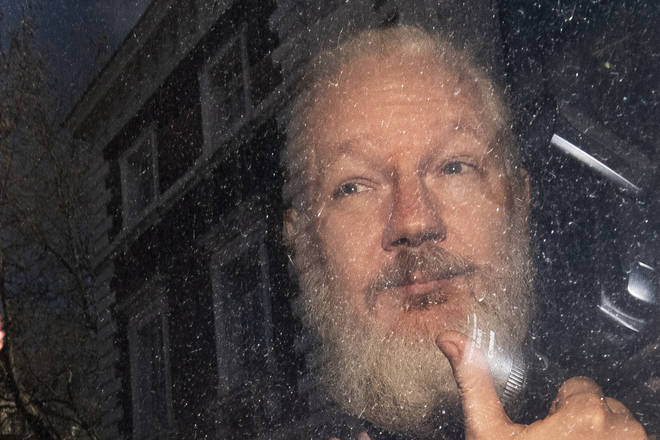 WikiLeaks founder Julian Assange has been sentenced to 50 weeks in prison for breaching his bail.
The Australian appeared at Southwark Crown Court on Wednesday morning where he was sentenced to 11 months in prison.
Announcing the sentence, Judge Deborah Taylor told Assange: "It's difficult to envisage a more serious example of this offence."
She added: "By hiding in the embassy you deliberately put yourself out of reach, while remaining in the UK."
She told Assange that by doing so he had "exploited your privileged position to flout the law".
Mr Assange was found guilty of breaching the Bail Act at a hearing at Westminster Magistrates' Court earlier this month after seven years inside the Ecuadorian Embassy, where the activist had sought asylum.
In a letter read to court, Assange said: "I apologise unreservedly to those who consider that I have disrespected them by the way I pursued my case.
"I found myself struggling with difficult circumstances.
"I did what I thought at the time was the best or perhaps the only thing that I could have done.
"I regret the course that that has taken."
Those difficulties, the letter continued, were "compounded" and also "impacted upon very many others".
Assange was accused of sexual offences in Sweden in 2010, and after exhausting his legal options against an extradition order, went to the Ecuadorian Embassy on June 19 2012.
A warrant for his arrest was issued 10 days later.
At the hearing following his dramatic arrest District Judge Michael Snow remanded Assange in custody and branded him a "narcissist who cannot get beyond his own selfish interests".
The judge said: "This is a case which merits the maximum sentence, which is 12 months in the Crown Court."
Assange faces legal action in three countries - the UK, Sweden and the US.
Swedish authorities have said they are considering reopening their investigation into sexual assault allegations against him.
The 47-year-old also faces legal proceedings in the US, with the US Attorney's Office issuing one count of conspiring with former Army intelligence analyst Chelsea Manning in the hacking of intelligence computers to reveal controversial intelligence operations in the United States.