World Health Organisation backs use of Oxford/AstraZeneca vaccine in all adults
10 February 2021, 15:20 | Updated: 10 February 2021, 15:58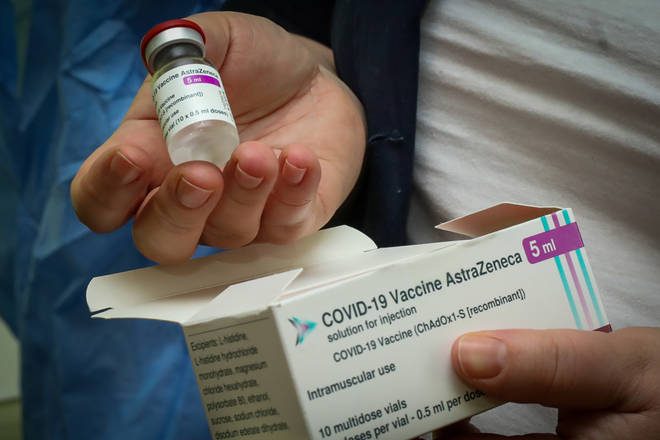 Scientists advising the World Health Organisation have recommended the use of the Oxford/AstraZeneca Covid-19 vaccine in all adults.
There had previously been fears that the jab may be less likely to prevent mild or moderate illness caused by the South African strain of coronavirus.
But the WHO's Strategic Advisory Group of Experts on Immunisation has issued interim recommendations on the vaccine, saying that the jab could be given to people aged 18 and above "without an upper age limit".
Read more: Brits need to 'get used to idea' of revaccinating every autumn, PM says
"That means people over the age of 65 years of age should be given the vaccination," Dr Alejandro Cravioto, chairman of the advisory group, told a press briefing.
It comes after a number of countries have opted not to give the jab to those over the age of 65.
University of Oxford researchers previously found the Oxford-AstraZeneca vaccine is just as good at fighting the UK Covid-19 variant as it is the original strain of the virus, despite a study prompting fears it may not be.
Earlier on Wednesday, England's deputy chief medical officer, Professor Jonathan Van-Tam, said the study carried out in South Africa which showed low efficacy for the Oxford/AstraZeneca vaccine for mild disease should be interpreted with caution.
He said: "I'm not sure that really tells us about whether the vaccine is still going to be really important in terms of protection against severe disease and protection in an older age group, and they're the people who are most at risk.
"It would be a very, very big public health win indeed if all of the vaccines that we're deploying simply stop people going into hospital, even if they don't flatten the infection rate. That would be a major, major public health victory."
He said the South African variant was not the UK's most pressing problem, adding: "It's not our major threat right now.
"The thing that is going to kill people in the next one to two months in the UK is the problem we have with our own circulating virus, which is the Kent variant as we now know it. And we have good data now that the vaccines are very effective against the Kent variant.
"So from that perspective, I think it's not today's problem - the South African variant."
He said it was likely vaccines would be given annually to match variants.