Restaurant owner asks Trump press secretary to leave
23 June 2018, 23:53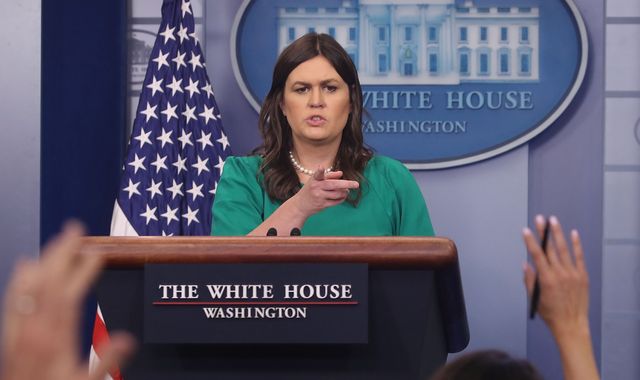 Donald Trump's press secretary says she was asked to leave a restaurant because she worked for the US president.
Sarah Huckabee Sanders said on Twitter that she had been at a Red Hen restaurant in Lexington, Virginia, on Saturday night when the owner made the request.
She had "politely left" the business, she told her 3 million followers.
She added: "(The owner's) actions say far more about her than about me.
"I always do my best to treat people, including those I disagree with, respectfully and will continue to do so."
Stephanie Wilkinson, co-owner of the 26-seat restaurant in rural Virginia, told The Washington Post that she had been at home when she was contacted by the chef who had recognised the diner and wanted to know what to do.
The table of eight had been booked under Ms Sanders' husband's name and when Ms Wilkinson walked into the restaurant, she saw they had cheese boards in front of them, as the kitchen worked on their main courses.
Ms Wilkinson told the newspaper: "I'm not a huge fan of confrontation.
"I have a business, and I want the business to thrive.
"This feels like the moment in our democracy when people have to make uncomfortable actions and decisions to uphold their morals."
She said several of her staff are gay and had seen Ms Sanders defend Mr Trump's efforts to exclude transgender people from the military.
More recently, the staff had watched the press secretary defend Mr Trump's controversial immigration policy.
Ms Wilkinson said she had consulted her employees and they had agreed that Ms Sanders should be asked to leave.
She had then asked Ms Sanders to come away from the group so they could speak.
"I explained that the restaurant has certain standards that I feel it has to uphold, such as honesty, and compassion, and co-operation."
When Ms Wilkinson asked Ms Sanders to leave, the response had been: "That's fine, I'll go".
"They offered to pay," Ms Wilkinson said. "I said, 'No. It's on the house'."
Earlier this week, Department of Homeland Security Secretary Kirstjen Nielsen was at a Mexican restaurant in Washington DC when she was met by protesters yelling "Shame! Shame!".
She later decided to leave.
The protesters were responding to the Trump administration's "zero tolerance" immigration policy at the US-Mexico border.
(c) Sky News 2018: Restaurant owner asks Trump press secretary to leave