How One Cow Sparked A Diplomatic Row On The EU Border
4 June 2018, 13:32 | Updated: 4 June 2018, 13:41
One cow who wandered over the EU border between Bulgaria and Serbia sparked a diplomatic row after officials said the animal has to be destroyed.
A pregnant Bulgarian cow that wandered over the border into non-EU member state Serbia, is due to be put down by officials.
Penka, who is due to give birth to a calve in three months time, was returned to her herd near the village of Kopilovtsi in Bulgaria.
But Bulgarian officials citing strict EU importation laws say it has to be destroyed.
The importation rules mean that bovine animals must be accompanied by a veterinary health certificate upon entry, and must accompany the animals en-route to the EU, and when they are presented for entry.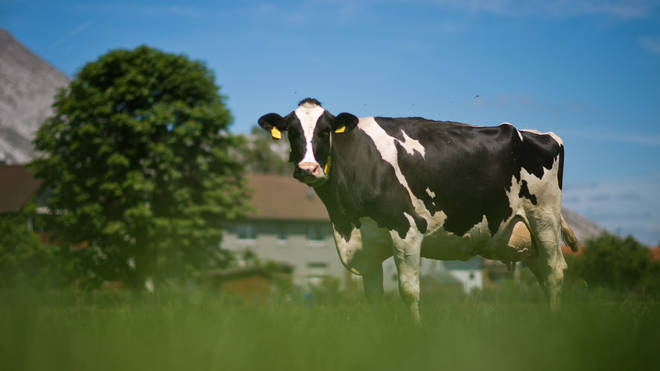 Conservative MEP John Flack has stepped in to try and save the pregnant cow by offering to pay for its veterinary examination.
He told Ian Collins: "I've actually offered to pay for an EU vet to examine the cow and if it's given a clean bill of health it will hopefully continue to do what cows do."
Ian said: "We are having these huge debates about the Northern Ireland border, this very scenario could easily happen closer to home."
Mr Flack replied: "It could happen, but I sincerely hope it won't.
"I saw the border for myself and there are forms there where cows graze on one side of the border and are miked on the other.
"Both the British and the Irish government they do not want a hard border, so if both governments on either side of the border say there's no need for a hard border, let the cows continue to wander as they have for decades."