Only can Apple make you believe in a £3000+ Headset, Will Guyatt writes
5 June 2023, 21:21 | Updated: 6 June 2023, 08:28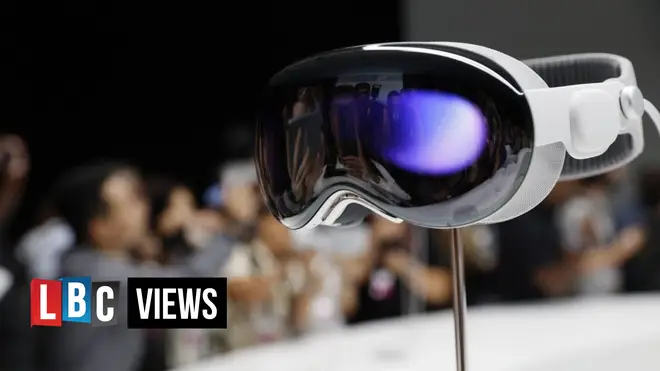 When I promised the LBC bosses a rapid reaction to the reveal of Apple's much vaunted new Augmented Reality headset, I hadn't fully considered the effect of watching the full two hours and six minutes of a presentation revealing everything from a new Snoopy watch face for your Apple Watch to a very snazzy option to receive live transcriptions of voicemail messages as they were being left on your iPhone, it was easy to develop a bit of Cook-blindness, named after Apple's enigmatic boss.
Features were coming so thick and fast that I experienced my own existential crisis as least once, as I wondered whether some feature or other had actually been made available on another device before.
But that's the point - Apple does things in such a way, you can often forget.
When the Vision Pro turned up 85 minutes into the presentation, Apple ratcheted up the hype, with a presentation so slick, that Mark Zuckerberg is probably crying into his Metaverse headset as I type.
This is the first Augmented Reality headset that appears to do everything it's meant to do well, overlaying high definition and even 3D computer visuals over your real world environment.
Where Meta went for cartoon versions of Nick Clegg and Zuckerberg waterskiing, Apple showed Disney + displayed as a virtual 100ft screen in the outer limits of space, and then revealed that on launch day, over 100 games will be available to play on the Vision Pro, and you'll be able to watch live sports like basketball and American Football.
They mentioned 'soccer' but don't forget - this was predominantly focused on the US-heavy launch crowd in California for Apple's annual WWDC event.
What Apple showed was undeniably impressive, the company claims the Vision Pro is the most advanced personal consumer electronics device yet, and I believe them.
Having filed 5000 patents in its creation - the company has certainly pushed the boat out on developing a whole new product category in the personal tech space - which they've called spatial computing.
Apple don't want this to be just "another headset" and at the premium they will be charging, it definitely won't.
Listen and subscribe to Unprecedented: Inside Downing Street on Global Player
Read more: The new energy revolution is coming - whether you like it or not, says Andrew Marr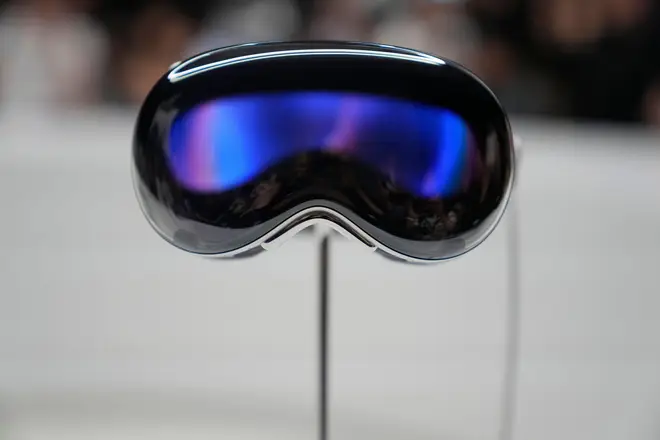 Given the Vision Pro was part of a presentation that had also included a new Mac Pro computer that started at $6999 - it was clear the new product, which had screen technology, and the processor - it's main brain specially created for the Vision Pro, was not going to be cheap - I had previously been tipped off the launch model would retail around £2500 - but when Apple revealed the first edition of the Vision Pro would go on sale in early 2024 for a cool $3499, even I fell off my seat.
But if this works like the Apple demo shows, they've created something that might eventually transform the market - after all when the iPhone was launched in 2007 it wasn't the first smartphone on the market - and all of its features were nearly all superseded by other devices, but Apple pulled them all together in one slick package, and got people talking.
Many of the features shown have been seen on a variety of devices made over the last five years or so - but nobody has done it in quite the way Apple has.
However, given the exterior of the first generation model looks similar to a hi-tech reinterpretation of some 80s ski goggles from C&A, it might take some time to persuade all but the biggest tech-heads and Apple hardcore that this is a product for the masses.
That said - Apple have created something new and exciting that actually exists and is the in the hands of developers in San Francisco right now, as opposed to the ideas and vision of Zuckerberg and Metaverse, which turned out to be a bit crap.
If anyone can make a $3499 new product line work, it's definitely Apple, and if they can make a headset that doesn't want to make me vomit into a bin in 20 minutes, I could be tempted.