This Minister Could Take A Decisive Role In Football's Abuse Scandal
28 November 2016, 12:18 | Updated: 28 November 2016, 12:49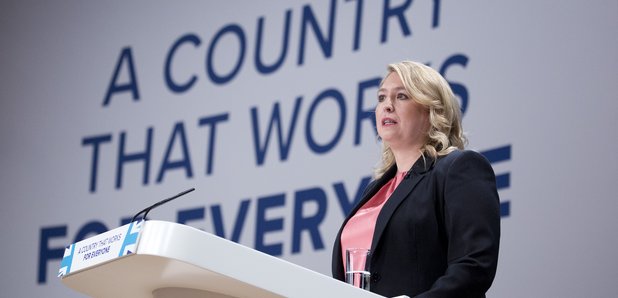 This is the woman who could take a decisive role in investigating the football abuse scandal. David Mellor says it's time for Karen Bradley to make a name for herself.
The Secretary of State responsible for sport, Karen Bradley, who isn't even a household name in her own front room, had a chance this weekend to up her profile by saying something strong, insightful and intelligent about football's unfolding child sex abuse scandal.
She didn't. Instead she merely said she welcomed the FA's internal review, and, er, that's it.
This is the sort of bromide comment the Foreign Office, when I was there, used to call "diplodrone" – words disassociated from meaning or relevance, designed merely to fill a gap.
A message to Karen: Do yourself a favour. Take initiative here, and this is how you do it.
You tell the FA, an organisation that has long been unfit for purpose, that appointing a QC and conducting an internal review isn't good enough.
What is needed is an external team, under a high-powered investigator, to examine the child protection policies of all Premiership and Football League clubs.
And where there's evidence that these arrangements lack transparency, or are not suitably geared to child protection, those clubs should be forbidden from running training schemes for youngsters until they prove they are worthy of that responsibility.
The FA is already trying to hide behind police investigations as an excuse for doing little or nothing. Don't let them, Karen.
Victims of historic sex abuse in football now coming forward, are entitled to have their complaints properly investigated by the police. But I am talking about something completely different. What I am talking about are the tens of thousands of parents, who this weekend let a beloved child go to a football training course.
What those parents need reassurance about is that when they entrust their child to a club and its training staff, the club is fully aware of its responsibilities to protect the child from harm and have taken proper steps to ensure that their coaching staff are not going to take advantage of vulnerable children for their own perverted sexual pleasures.
Nothing that's done about today's arrangements can possibly interfere with investigations into what happened 20 years ago.
So call in the FA and tell them to get a grip. And if you think they won't, then set up an investigation yourself, and demand that the FA, both major league organisations and the clubs fully cooperate with its work. Such is the outcry in the press that none of them would dare not do so.
Lots of people wonder why we have a Secretary of State for Sport. Here's your chance to prove there's a reason for your existence.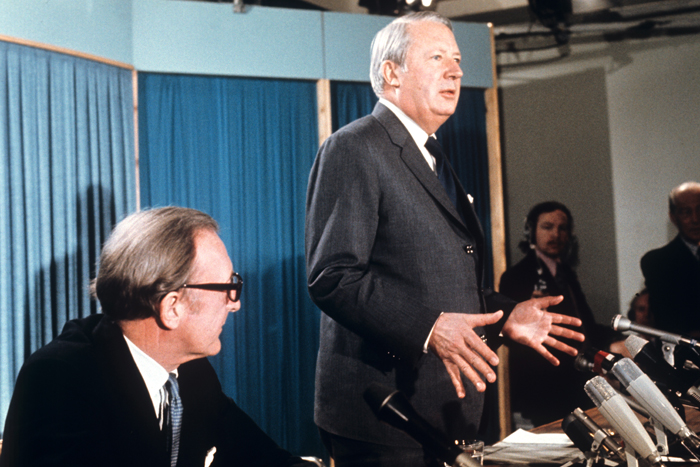 Stop Tarnishing Heath's Memory Now
Those who appreciate irony will enjoy the sad truth that when there is real child abuse, the police are often the last to turn up, but when there isn't, just a few fantasists at work, they're first in the queue.
Despite Operation Midland having collapsed, amidst clear evidence that the principal complainant "Nick" was a fantasist and completely unreliable, his evidence is still, apparently, being taken seriously by Wiltshire police.
They continue to investigate allegations made by him and others against Ted Heath, despite the expert, Dr Rachel Hoskins, to whom they showed all their evidence, having denounced the whole thing as fantastical.
A year ago an attention-seeking Wiltshire plod Supt Sean Memory (yes, really!) stood in front of Heath's house, because it looked good on the TV and announced an inquiry into lurid allegations involving satanic rituals against Heath.
Twelve months on, and the expenditure of almost £1 million of your money, Memory has produced nothing by way of proof, and Dr Hoskins assured us yesterday that nothing against Heath will be uncovered.
I knew Heath well, and the only thing satanic about him was his legendary bad temper and being a curmudgeon.
Heath, a bachelor, has no family to protect his interests. But as a former Prime Minister, he is worthy of respect in death, just as he commanded lots of respect in life.
His memory should not be besmirched in this way.
Wiltshire police should desist. If they won't they should be ordered to do so. Perhaps the retired Judge Henriques who, in the bits we were allowed to see, so eloquently skewered the Mets nonsense in Operation Midland, should be sent in to sort out the Heath investigation.
Can't happen soon enough for me. Or for justice.