One Question Each Party Leaders Can't Answer, By David Mellor
15 May 2017, 10:51 | Updated: 15 May 2017, 11:03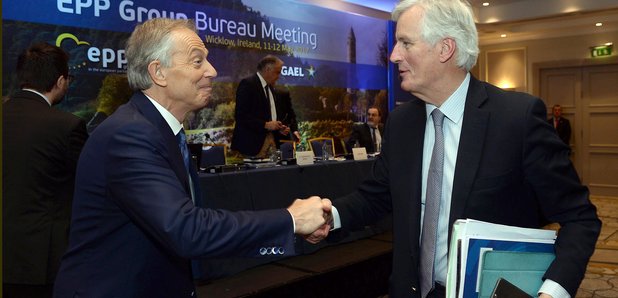 That photo of Blair cosying up to the rabidly anti-British Michel Barnier, the EU's Chief Negotiator, at a conference in Ireland, made me want to puke, says David Mellor.
What was he saying to him? Maybe if you see him out and about, and can get past his security detail, you might like to ask.
As a patriot, he should have been warning Barnier off trying to destroy our economy with outrageous demands like the €100 billion he and Juncker want before even starting negotiations, and for which there is no legal basis whatsoever. And maybe it has risen to €150 billion by this weekend!
But I bet Blair didn't. I bet he sprayed on all his legendary charm, and sympathised with him about how awful all this Brexit stuff is. In effect making Barnier think that Blair was perfectly happy about the way he and Juncker are behaving, which no patriotic Brit should be.
Which made me think of a number of other questions you might like to direct to the party leaders if you find them out of their cocoon, and on the campaign trail.
After all, every election has a few encounters, either in the street, or on the radio, where a punter gets the better of a party leader as happened so memorably with Gordon Brown.
Let me think of a few questions each one might struggle to answer.
CORBYN: IS THERE ANYTHING UNITE'S LEN McCLUSKEY WANTS YOU WOULDN'T SAY YES TO?
Corbyn is the union's yes man. The more extreme their demands (and they don't come any more extreme than McCluskey), Corbyn will go along with it.
The union bosses saw the manifesto before it was printed, and no doubt gave the return to the 70s it promises, their approval.
Corbyn is in McCluskey's pocket. Get him to admit it.
MAY: WHY HAS IMMIGRATION FROM OUTSIDE THE EU ALWAYS BEEN HIGHER UNDER THE TORIES THAN EU IMMIGRATION?
Having failed during her six years as Home Secretary to deliver on Cameron's promise to cap immigration to "the tens of thousands", May now wants to repeat this pledge.
But most immigration is from the Indian subcontinent and Africa. Often these immigrants are people with none of the skills we need, yet they get in, despite having nothing to do with the EU? How do they manage it?
How is that possible, Theresa? Is immigration control, with or without Brexit just a big lie?
FARRON: HOW MANY EUROPEAN LEADERS HAVE YOU TOLD TO LAY OFF BRITAIN DURING THE BREXIT NEGOTIATION?
I bet the answer is none. The Lib Dems may be nothing much in the UK, but in Europe they are aligned to a lot of significant parties.
Farron should be telling them the best way to keep Britain in, is to treat us properly in the upcoming talks.
It's them he should be berating, not the British government for merely trying to implement the will of the people as expressed in the referendum.
NUTTALL; GIVE ME FIVE GOOD REASONS WHY UKIP SHOULD CONTINUE TO EXIST.
No need to waste much time on this one. There aren't any.