The Fast and the Spurious! Why Harry and Meghan's NYC chase won't do the couple any favours
18 May 2023, 13:08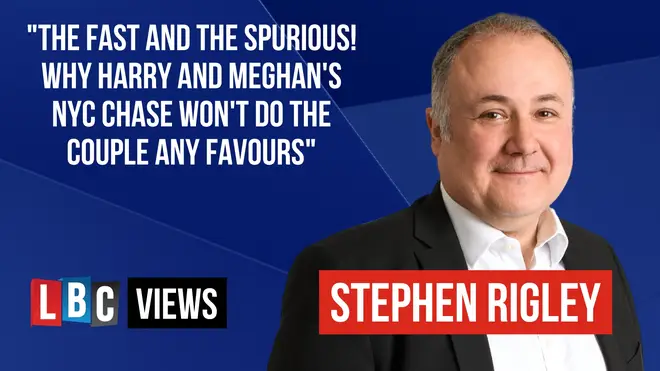 The statement was alarming, genuinely shocking and no-one could feel anything but sympathy for Prince Harry and his wife Meghan.
Echoing the high-speed pursuit that killed Princess Diana in Paris 26 years ago, the couple and her mother had been "involved in a near catastrophic car chase at the hands of a ring of highly aggressive paparazzi.'
Taking place over two hours through the streets of New York City "this relentless pursuit" had "resulted in multiple near collisions involving other drivers on the road, pedestrians and two NYPD officers".
After what happened to Diana, no one would ever condone such behaviour on city streets. Even more weirdly, there were plenty of opportunities to photograph the couple earlier in the evening at a glittering gala in Midtown Manhattan.
Harry and Meghan were said to be "shaken and upset" by the photographers behaviour and who can blame them. It must be genuinely terrifying to be travelling round a strange city when darkly-clad strangers leap out of nowhere in a wall of flashing lights and clicks.
But there is a bigger issue at play. The Duke of Sussex is waging a high-profile war with the press.
He blames the paparazzi for his mother's death, says the ongoing treatment of his wife by the tabloids reminds him of his mother's experience and is taking legal action against three newspaper groups.
Earlier this week Harry's lawyers appeared in the High Court arguing that it was not only wrong of him to be stripped of his armed Metropolitan Police protection when he is back in the UK, but unfair for him to have been denied the right to reimburse the taxpayer for it.
But here comes the questions that have not been sufficiently answered from the New York incident.
Neither, the NYPD or a taxi driver who took them part of the way said there had been a chase.
A spokesman for the NYPD said: "The Duke and Duchess of Sussex arrived at their destination and there were no reported collisions, summonses,  injuries, or arrests."
Mayor Eric Adams added: "I would find it hard to believe that there was a two-hour high speed chase."
From what we now know It seems difficult to believe that there could be a two hour chase through the streets of New York and that the police would not - at least acknowledge - something that put the public and their own officers in danger.
It is quite telling that there doesn't appear to be any footage of the latest, two-hour, chase.
You could argue that Harry and Meghan 'have form' for hyperbole surrounding the paparazzi.
In the couple's recent Netflix documentary producers had to rely on footage of paparazzi at Harry Potter film premieres or Katie Price court hearings to illustrate the couple's complaints that they were doggedly followed wherever they went.
Following their departure from Britain and their move to California, the couple has sought to burnish their image with the help of the media in Harry's adopted home.
Americans have at times shown sympathy to the couple, perhaps because they can claim Meghan, who grew up in Los Angeles, as their own.
But the couple's courtship and collaboration with favoured American media like Oprah has also fuelled a cottage industry of photographers who seek to capture their every public appearance.
The popularity of the Netflix documentary and Harry's memoir Spare has only raised Americans' appetite for these images and for other insights into the life of the royals living in their midst. Websites like TMZ and PageSix and not the British press can pay big money for such images.
No-one should be left 'shaken and upset' by media behaviour on the streets of a city but wild claims do not do the couple's cause any favours in their battle with the media.