How do you solve a problem like Nadine Dorries? If you're the Prime Minister, by throwing her under a bus live on LBC
2 August 2023, 11:15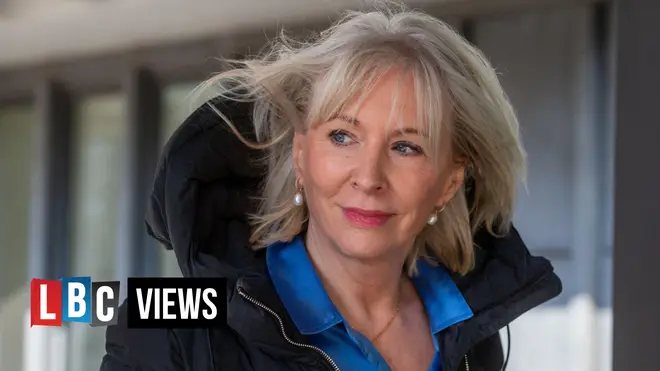 How do you solve a problem like Nadine Dorries? Seemingly, if you're the Prime Minister, by throwing her under a bus live on LBC.
Rishi Sunak covered an array of difficult, challenging topics during his phone-in with Nick Ferrari on LBC today, but there was one subject that the Prime Minister seemed to relish in discussing… Nadine Dorries.
It's no secret that the MP for Mid-Bedfordshire has a chequered history with Mr Sunak. She has previously labelled him a "privileged posh boy" and "one of our biggest losers". But today saw The Empire Strike Back as Star Wars fan Sunak laid into his absent arch-rival.
The PM was asked via Tik-Tok by Nathan "what should happen to an MP who hasn't spoken in Parliament in over a year, and takes months to officially resign?", to which the Prime Minister wasted no time at all in berating Nadine Dorries' commitment to her constituents.
Rishi Sunak told LBC "I think people deserve to have an MP who represents them wherever they are… Engaging with you, representing you, speaking in Parliament, being present in their constituencies… that's the job of an MP and all MPs should be held to that standard".
But why leave it there? It was clear that the subject animated the Prime Minister and he had more to say. Nick Ferrari pushed him as to whether Dorries was "failing" which gave the PM the perfect opportunity to deliver the killer blow... "at the moment people aren't being properly represented". An unprecedented remark about one of his own MPs.
If Nadine Dorries had already had the Conservative whip removed you might be able to understand it, or even if she were a former MP – but to attack a serving Conservative MP so conspicuously risks reigniting the Tory civil war psychodrama.
The PM is now playing a waiting game, praying that Nadine Dorries stands down. The longer she drags her heels, the more pressure on Rishi Sunak - who will be left with an uncomfortable decision to remove the whip from the former Cabinet Minister.
But Boris Johnson's allies view themselves as akin to NATO member states. When you attack one, the rest of the pack intervenes. Sunak's remarks today will be seen squarely as yet another attack on the former Prime Minister.
In seeking to make a cheap shot against undoubtedly a troublemaker, the Prime Minister may well have caused the Conservative Party, and himself, yet another headache.