Honouring those who served: Poppy Seller explains how your donations make a vital impact on those in need
10 November 2023, 12:18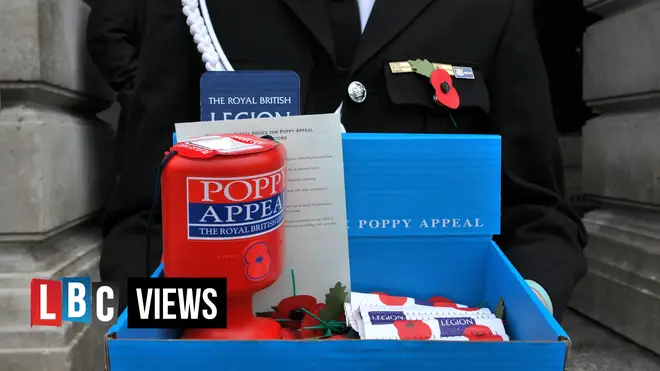 Diane Owen is a Royal British Legion volunteer in Rhyl.
You can donate to the RBL by visiting the RBL's website
We have a big Armed Forces Community here in Rhyl and we are all dedicated to raising awareness of them, as well as remembering all those who have served and sacrificed across the UK.
I was born and bred in Rhyl and worked for years as a teacher in Abergele, and I come from a background where nearly all of my family have served in the Armed Forces.
My Uncle George died at Dunkirk at the age of 21. His name is on the memorial in Rhyl and my cousin and I recently went to Rouen to visit his grave. We took his medal and pictures and put them on there.
That's why I wanted to do the Poppy Appeal. I'm the oldest of my generation in my family and I want to carry it on.
I have had plenty of experience to draw from, as following World War Two my Aunties actually used to sell poppies outside Marks & Spencer's in Rhyl.
I've helped out for a couple of years with Rhyl's Poppy Appeal with my late husband and 12-year-old granddaughter but this year I've enjoyed taking a more major role in the Poppy Appeal.
I'm loving being part of the fabulous foursome that is Helen, Tracey, Margaret and I and have loved getting out and meeting more members of our community. It's so interesting meeting people and I've heard so many tremendous stories.
We've been led by the brilliant Claire Lewis, who is Poppy Appeal Manager for North Wales, and she has even called us "the jewel in the crown of Poppy Appeal activity in North Wales"!
It's really important to raise money for the Royal British Legion because the money raised from the Poppy Appeal can make a vital difference to people in the Armed Forces community.
The Royal British Legion provide support in many ways from befriending services for those who are lonely, help with finances and housing, or recovery programmes after injury and illness.
Alongside the importance of raising money for the Armed Forces, it's been all the more exciting this year as the Remembrance poppy has been given a make-over and is now completely plastic-free. The new poppies have been sold alongside stock of the original poppy and the public have really taken to them with lots of interest in the new design.