Showers over stigma: Suella Braverman's homeless comments show need for compassion, writes Sarah Lamptey
7 November 2023, 10:23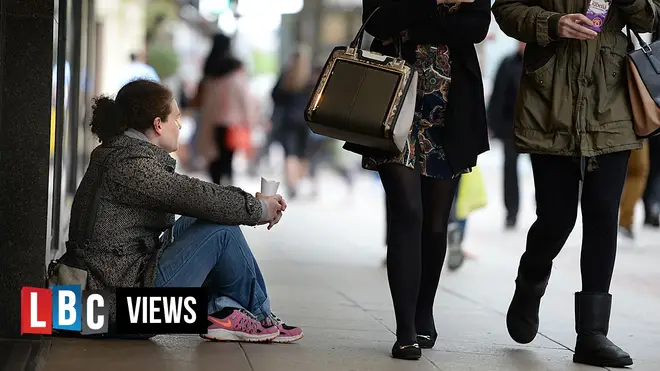 Sarah is the founder of ShowerBox London, a charity providing free and secure shower space for the street and hidden homeless in London.
Suella Braverman's comments have kindly afforded me an opportunity to highlight our service at ShowerBox, where we give showers to anyone in need.
The view that living on the streets is a "lifestyle choice" would be laughable if it wasn't held by someone with so much power. Should, in a twist of events, the Home Secretary decide to volunteer with my team, she would hear stories of unbearable, crippling circumstances, of abuse, of seeking safety and of devastating daily hardship which could never be a human's choice.
Suella talks of everyone having options, so it would be such a help if she could come to share them.
The proposal that organisations may be fined for giving out tents is gobsmacking; that we could be penalised for caring, compromising our capacity to do so. We are already so busy due to the massive rise in need.
Our numbers rose from 52 showers on our busiest Saturday last year to 69 this year. 150 more individuals visited us that day, for essential toiletries and underwear.
Suella wants less provision for those on the streets, but we are needed more than ever, and we need support.
It's not the first time that organisations such as ours have been blamed in this way. An argument we've received is that by offering a shower we are extending time spent on the streets.
As though to give a shower or indeed, a tent, is to render life on the streets an attractive option. Our focus is to support self-care, to help make each day a little less of a challenge and to boost mental as well as physical health.
Our guests leave our showers talking of feeling "human again". Our work surely complements the efforts of those working on housing solutions.
My friend, Caroline Allouf, works full-time for charity, Street Storage, and then gives up her Saturdays to volunteer with ShowerBox: "No one chooses to feel so unsafe in their place of birth that they are forced to flee. No one chooses to be chucked out of home because their sexuality isn't approved of by their family. No one chooses to grow up in the care system. No one chooses to struggle with their mental health."
These words, unlike others, come from a place of experience, understanding and care.