The Coronation was a chance to celebrate national unity, not sow division
10 May 2023, 15:49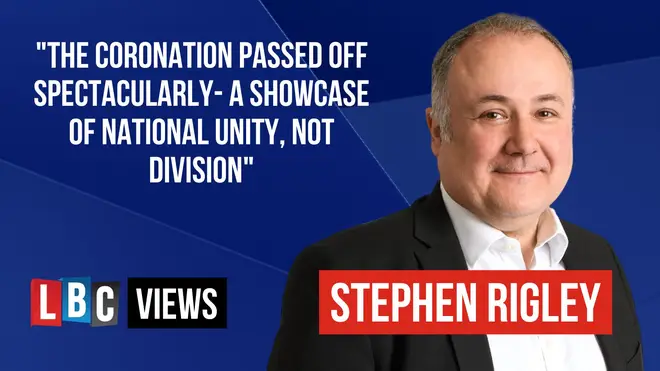 "We have gone from the rich diversity of the Abbey to a terribly white balcony."
These were the words of a Bridgerton actress commenting for ITV on the Coronation - causing a torrent of complaints.
Adjoa Andoh has since moved to clear up the row surrounding her comments about the lack of diversity on the Buckingham Palace balcony, saying that she didn't mean to upset people.
I'm sure she didn't. But now, at the time of writing more than 4,000 people have complained to broadcasting regulator Ofcom.
One commenter slammed her comments as "ridiculous", while another questioned: "Why is it OK to dismiss a white family for being white?"
Read more: Thousands complain to Ofcom after Bridgerton star Adjoa Andoh describes Buckingham Palace balcony 'terribly white'
Personally, i think this is too simplistic but I think it is fair to ask: "What exactly was she trying to say?"
Yes, there are aspects of the monarchy that do merit criticism. The colour of their skin isn't one of them and their efforts to champion diversity should not be called into question.
The Queen herself spent a lifetime building links between Commonwealth countries and Charles will undoubtedly bid to follow in her footsteps.
King Charles himself is a 74-year-old Christian but he made a real effort to include as many people as possible in the events surrounding his Coronation.
Charles has spent his whole life preparing for the monarchy and no-one will be more aware than him of how his family appears to the outside world, especially without Harry, Andrew or Meghan.
But the Coronation was a chance to showcase Britain and passed off spectacularly. It was an opportunity for national unity.
At the centre of the Royal Family is a family.
They feud, they squabble and bitch like any other. They just happen to be the Royal Family.
Fortunately, in 2023 they are still able to marry for love not, to make any future balcony appearances a better PR shot.
That was their moment. Lets try not to spoil it.