Boris Johnson humiliated as MPs vote to force No Deal Brexit documents to be released
9 September 2019, 19:34
Boris Johnson has suffered yet another humiliating Commons defeat as MPs voted to force his government to publish private communications relating to a No Deal Brexit.
The emergency motion - brought by former Tory MP Dominic Grieve - means ministers will have to surrender private communications by Wednesday.
MPs voted by 311 votes to 302, a majority of nine.
Mr Johnson was not present in the Commons for his latest defeat, his fifth in five days.
Provisions in the motion also extends to key figures in Mr Johnson's government, including de-facto head-of-staff Dominic Cummings.
The Grieve motion includes demands "all correspondence, whether formal or informal in both written and electronic form" in relation to the prorogation of Parliament sent since 23 July - the day before Mr Johnson took up office in Downing Street.
Messages which will need to be handed over include any sent via text, iMessage, WhatsApp, Facebook Messenger, Telegram and Signal and from "private email accounts both encrypted and unencrypted".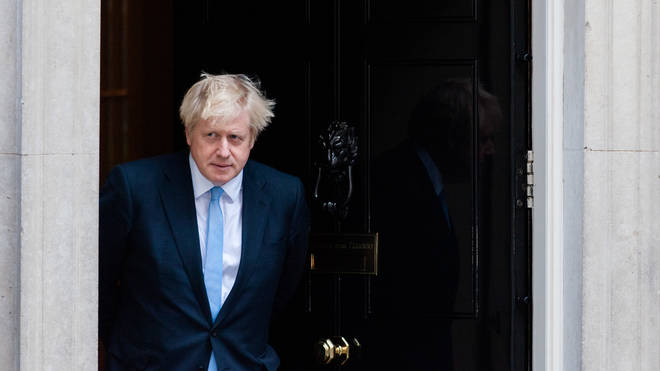 However, despite the vote, it is unlikely the government will comply as the Commons will be shutting down until 14 October after the end of business this evening.
In response to the vote, the government said it was "disappointed" in the outcome and will "consider the implications" of it.
It added it is "committed to sharing appropriate information with Parliament, but we must balance this obligation with the broader public interest, our legal duties and the assurance that ministers can receive full and frank advice that will remain confidential.
"The scope of the information requested in the humble address is disproportionate and unprecedented. We will consider the implications of this vote and respond in due course."
Mr Grieve was one of the 21 Tory rebels who had the whip withdrawn after voting in favour if delaying Brexit until January in Tuesday's vote.
During the debate, he said: "The House is about to be prorogued for five weeks, two weeks after we return is the anticipated date on which we are going to leave the European Union.
"There is much which is left undebated and, in particular, we are not going to have an opportunity to ask necessary questions of the government both in relation to its own prepared documents under Yellowhammer, which it has prepared for its own use in relation to the risks of a no deal.
"And, in addition to that, we are not going to have the opportunity to ask what I think are the necessary and unfortunately searching questions about the government's motives in proroguing this House and the potential difference between what they have said in public in this matter and what the evidence suggests is the reality."
But Michael Gove blasted the motion as a "fishing expedition" and said it would "set aside" legal precedent for private citizens.
He said: "This is a fishing expedition where every single communication to do with prorogation is being sought and it takes a coach and horses through our data protection legislation.
"Refusing to take interventions from opposition backbenchers, Mr Gove added: "Their desire to rifle through private correspondences of advisers is to set aside legal precedent and the rights of citizens."
More to follow...