PM says national circuit breaker would be a 'disaster' and defends regional Covid strategy
14 October 2020, 12:32 | Updated: 14 October 2020, 14:49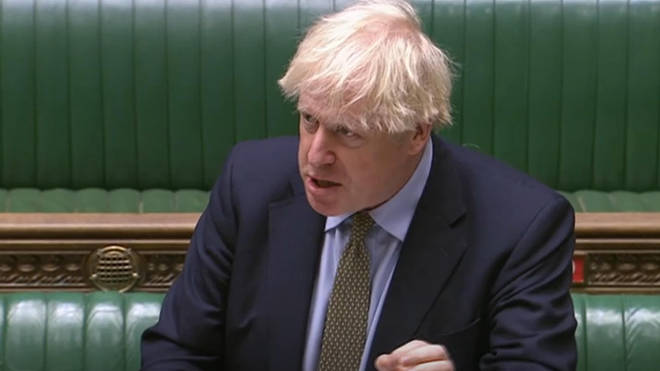 Boris Johnson stuck firm to his three tier coronavirus strategy when questioned at PMQs today, despite growing pressure to bring in a national 'circuit breaker' lockdown.
Labour leader Sir Keir Starmer accused Mr Johnson of rejecting the advice of his scientific advisers to introduce a widespread lockdown to curb a rapid rise in Covid infections.
But the Prime Minister said a second national lockdown would be a "disaster", however he later added he would not "rule anything out".
During PMQs, Sir Keir told the Commons: "On May 11, the Prime Minister said that the Government's Covid strategy - and I quote him - 'will be governed entirely by the science'.
"On September 21, the Government's own scientific advisers, Sage, gave very clear advice - they said 'a package of interventions including a circuit-breaker will be needed to prevent an exponential rise in cases'.
"Why did the Prime Minister reject that advice and abandon the science?"
Prime Minister Boris Johnson said he has been advised that a "regional approach" to tackling Covid will "bring down the virus."
He told the Commons: "We will do whatever it takes to fight this virus and to defeat it.
"But since he (Keir Starmer) quotes the Sage advice I might just remind him that on page one it says that all the interventions considered have associated costs in terms of health and wellbeing and that policymakers will need to consider announcements and economic impacts and the associated harms alongside this epidemiological assessment.
"And the advice that I have today is that if we do the regional approach that commended itself to the House, and indeed to the right honourable gentleman (Keir Starmer) on Monday, we can bring down the arc and we can bring down the virus."
Boris Johnson wants to form a consensus with local leaders about the toughest Tier 3 restrictions - but ministers could impose them if that is not possible.
The Prime Minister's official spokesman said: "We want to create the maximum possible local consensus behind what would be the most severe kind of local actions.
"We continue to work with local leaders on that."
But the spokesman added: "The Government does have the ability to impose measures if it was felt that was what was needed to reduce transmission and to protect the NHS."
Scientists have warned that Christmas was going to be a very difficult period even if the Government does not decide to impose a circuit-breaker lockdown over the period.
Government advisers considering when to impose a short, sharp lockdown have suggested the coming October half-term or the Christmas holidays might be a good time as it would minimise disruption to education.
Prof Graham Medley told a webinar: "Christmas is going to be very difficult anyway.
"At the moment we have places that are in Tier 3 level lockdown, it's quite likely that several level 2 places will go into Tier 3 level between now and the end of the year, if not a lot, and we don't know that if the measures in Tier 3 are enough to move them down to Tier 2.
"So it's not going to be an easy Christmas and in some ways we kind of missed the boat a little and they are certainly something to think about in terms of the future."
He said the Government should be considering imposing short term lockdowns as far ahead as the spring half-term.
Greater Manchester Mayor Andy Burnham said he will resist the region moving into Tier 3 restrictions without a financial package that includes an 80% furlough.
The Labour mayor told a press conference: "We would be surrendering people here to certain hardship in the run up to Christmas, absolutely no doubt about it. Job losses certainly and of course business closures.
"In putting this pressure on council leaders in making them make these decisions, the Government is very much passing the buck and passing the bill to local areas and I don't find that acceptable.
"We've gone from an approach that was about whatever it takes to get the country through this, to a penny-pinching approach to the pandemic where the cost will fall very much on people in the real world.
"We oppose the Tier 3 proposal and we will not cave in to all of the pressure that's being applied to us unless we can be given clear evidence, but more than that, the substantial financial support that's needed to protect our communities through this. We will not let them be levelled down by this Government through this pandemic.
"When I say substantial support, I'm talking about an 80% furlough guarantee across all of the sectors that would be required to close."
Separately, Downing Street said the Government was not pinning its hopes on the arrival of a vaccine, stressing that it was also supporting the development of tests and treatments.
The Prime Minister's official spokesman said: "We are leading efforts on development of a vaccine and also - to maximise our opportunities to detect, treat and protect ourselves against the virus - we are also supporting the development of safe and effective treatments and tests.
"We can't, obviously, pin our hopes on a vaccine but we are doing everything possible both to develop a vaccine but also to develop those other treatments which can help to reduce the symptoms of coronavirus and to save lives."