Boris Johnson rules out second Scottish independence referendum
3 November 2019, 15:52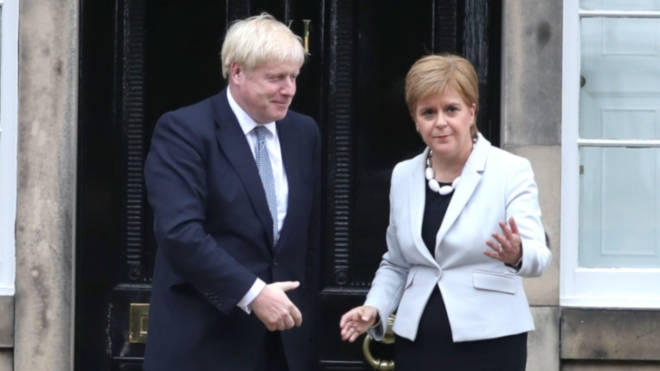 Prime Minister Boris Johnson ruled out IndyRef2 saying he "did not want" a second Scottish independence referendum.
The UK leader stated that the 2014 vote was a "once-in-a-generation" event and insisted there was no reason to go back on that assurance made by Scottish National Party leaders.
Mr Johnson said: "I think having another referendum, I don't think people in this country think referendums are very wonderful for harmony."
Earlier this morning the head of the SNP, Nicola Sturgeon, said "things have changed" since the country opted to remain part of the UK five years ago.
The Scottish First Minister revealed she would request the power to hold a legally-binding independence referendum just days after the 12 December general election, and feels Jeremy Corbyn will grant one if he wins.
When asked whether he would grant permission for such a plebiscite, Boris Johnson said: "No, I don't want to have one."
"We had one in 2014, the British people, the people of Scotland, were told in 2014 that that was a once-in-a-generation event. I don't see any reason to go back on that, on that assurance."
Ms Sturgeon urged Scots to use the December general election as an opportunity to "demand the right to choose a better future" and argued independence was a "better alternative" to Brexit and remaining in the UK.
She told Sophy Ridge on Sky News that Scotland's "future is on the line" and the country was being taken out of the EU against its will.
"I'm putting a very clear proposition before the Scottish people in this general election and if - and I take nothing for granted - if the SNP win that election for any Westminster politician to seek to stand in the way of an independence referendum on that timescale would be seeking to ignore the democratically-expressed wishes of the Scottish people," she said.
Shadow cabinet member Rebecca Long-Bailey suggested Labour would not block a second referendum if the Scottish Government pushed for one after the 2021 Holyrood election.
She added: "Ultimately what we have said is that after the next Scottish Government elections if the Scottish Government determine they want to pursue another referendum and they go through the legislative process within their own government to push that forward, than as a government we wouldn't stand in their way."
However, Scottish Secretary Alister Jack said the Tories were fighting to "save Scotland from the uncertainty and the division of another unwanted independence referendum" and were the only party "strong enough to stand up to Nicola Sturgeon."
The SNP leader told an audience at a pro-independence rally in Glasgow on Saturday that an independent Scotland was "within touching distance."
Speaking at the demonstration in George Square, she said: "There is no doubt whatsoever that Scotland stands at a crossroads moment.
"Down one path is a future that will be dictated to us by the likes of Boris Johnson. A future where tax cuts for the wealthiest take priority over our people and our public services. That is not the Scotland that we want."
The SNP leader also questioned the decision to leave her party out of a televised debate.
She asked: "Why are you so scared to have real debates in this election?
"My message and my challenge is this - I'll debate either of you, I'll debate both of you, anytime, any place. So stop running scared and come and justify why Scotland should not be independent."