Does politics have a women problem? MPs cite abuse as reason to stand down
30 October 2019, 20:21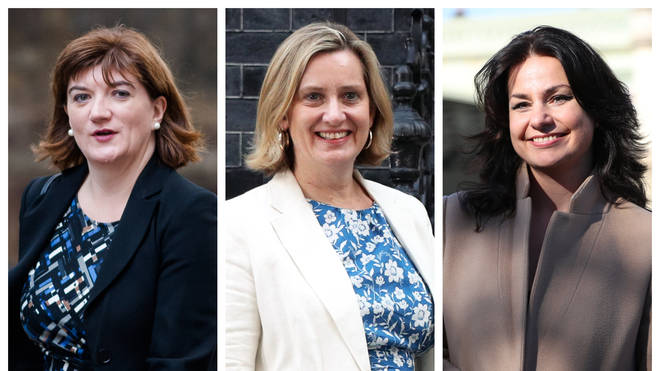 Of the ten female MPs standing down at the next election, five have so far explicitly cited abuse and the toxicity of politics in their reasons for doing so.
They are: Nicky Morgan, Heidi Allen, Louise Ellman, Gloria de Piero and Caroline Spellman.
A group of fairly senior women from across the political spectrum, many of whose ages might have suggested longer careers in politics ahead of them.
New data from the pollster ComRes, seen by LBC, suggests that there may be a correlation between increased levels of abuse and the number of women standing down from the House of Commons.
In a poll of MPs, ComRes found that nearly two thirds (65 per cent) of MPs said they weren't confident that appropriate actions were being taken by the Commons authorities to tackle violence and abuse against women in politics.
For the first time in 18 years I won't be a candidate in the next General Election. I've loved being #Loughborough's voice in Westminster since 2010 & being DCMS Secretary - & I look forward to supporting the PM, Government, Conservative Party and my successor in the future pic.twitter.com/xhH11bxd3C

— Nicky Morgan MP (@NickyMorgan01) October 30, 2019
And 65 per cent of female MPs say that the lack of progress has had an impact on their willingness to stand for election.
The Head of Politics at ComRes, Chris Hopkins, said: "Clearly the House of Commons has quite a lot to do in order to improve the perception even amongst its own MPs that it is effectively tackling abuse against women in politics. Our findings are quite damning."
One MP who has suffered her fair share of abuse is Liberal Democrat Luciana Berger, who quit the Labour Party earlier this year over anti-Semitism.
She is standing again in this election, but said she was sorry to see so many friends go: "We are seeing an increased toxicity in our politics, particularly in the wake of the referendum.
"The most horrific thing obviously was the murder of my colleague Jo Cox. I just hope people will reflect on what is leading to a disproportionate amount of women saying that they're not going to run again."
Letter to my constituents explaining why, what ever the outcome tonight, I won't be standing again to be the MP for South Cambridgeshire. https://t.co/g8zxjZD5j4

— Heidi Allen MP (@heidiallen75) October 29, 2019
There is plenty of evidence that women in public life are more likely to be subjected to gendered attacks and criticism.
Research done by Harvard University in 2010 for instance found that voters responded to "power-seeking" women with feelings of disgust, anger and contempt, but saw similarly power-seeking men as tougher and more competent.
Closer to home, research by Sheffield University last year found that online abuse directed at politicians of all genders rose significantly between the elections of 2015 and 2017.
The 2017 election may have delivered the most diverse Parliament ever, but even an all-time high of 32% female MPs left some distance to travel.
The fear is that the climate of abuse is both driving away good women already in politics, and preventing many good ones from ever entering in the first place.