Caller Puts Pressure On Clegg Over Lib Dems' Second EU Referendum
9 May 2017, 07:25 | Updated: 9 May 2017, 09:58
An LBC caller put Nick Clegg under pressure over how the Liberal Democrats' plan for a second EU Referendum would work.
Graham in Bushey asked the former Deputy Prime Minister a series of forensically-researched questions about what would happen if the people rejected the planned deal that Britain agrees with the European Union.
Mr Clegg said that if the British people turned down the deal, Britain would go back into the EU on similar terms that we are currently on.
And Nick Ferrari told Mr Clegg that "Graham has rather expertly shot your fox".
Nick summarised Mr Clegg's view: "So the idea is we get a deal, the deal is then put to the country, the country doesn't like the deal, so ergo, we're back in the EU?"
The Lib Dem responded: "Yes. What's wrong with that?"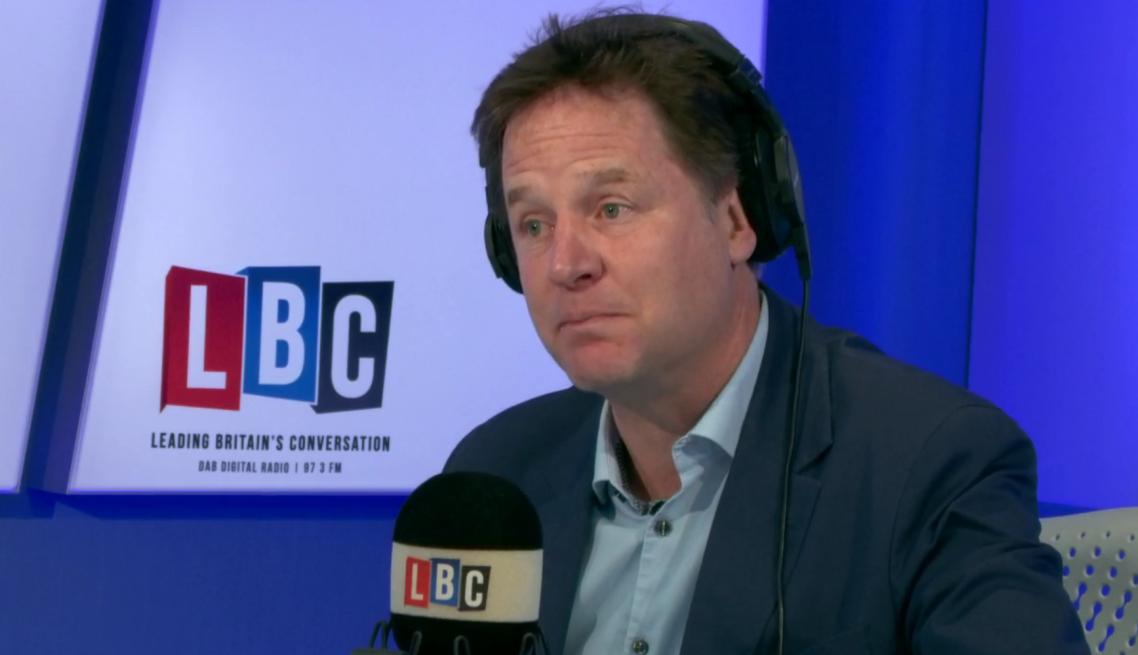 Nick suggested that would mean the people who voted for Brexit will be defied, but Mr Clegg insisted: "No one will be defied. You can't change a decision made by the British people, other than by another decision of the British people.
"By the way, people change their minds all the time, that's why we have an election.
"Last year, we weren't able to compare the status quo with what Brexit really means in practice, because the Brexiteers very cleverly, very cynically avoided any description of what Brexit actually means. We still don't know what it means.
"So when you have that - not second referendum - but a first referendum on the deal itself, for the first timw, we as a country will be able to compare like with like."
Mr Clegg was speaking to Nick Ferrari as part of LBCs Election Call, in which politicians from all the major parties will take questions from voters.
- Michael Gove: Tuesday at 4pm
- Sadiq Khan: Thursday at 10am
- Paul Nuttall: TBC
LBC's Election Call: Nick Clegg - In Full