Conservative Manifesto: We Read It So You Don't Have To
18 May 2017, 14:47 | Updated: 22 May 2017, 14:39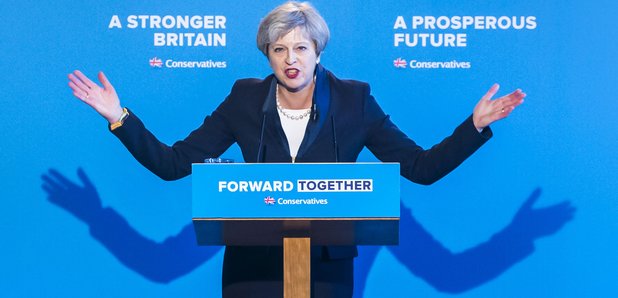 Theresa May released the Conservative Manifesto today. Here are the 10 key pledges from her plan if she wins June's General Election.
1) An £8bn extra for the NHS
2) Scrap the triple-lock on the state pension, which guarantees it rises by the highest of average earnings, inflation or 2.5%. It will be replaced by a new double lock.
3) Winter fuel payments will be removed from the wealthiest pensioners, taking away £300, to help pay for social care.
4) Raise the cost of care threshold from £23,000 to £100,000, but include value of home in calculation of assets for home care as well as residential care. This has been nicknamed the "Death Tax". Conservatives "amended" their policy to include a cap on costs.
5) Scrap free school lunches for infants in England and replace it with free breakfast for everyone across the primary years.
6) Pump an extra £4bn a year into schools by 2022.
7) Immigration cut to under 100,000, helped by doubling the amount levied on firms employing non-EU migrant workers.
8) Increase the personal income tax allowance to £12,500 and the higher tax rate to £50,000 by 2020.
9) Ensure people working in the 'gig' economy, such as drivers for Uber and Deliveroo, are properly protected.
10) 10,000 more staff working in NHS mental health services.