Labour's Manifesto: We Read It So You Don't Have To
16 May 2017, 12:50 | Updated: 22 May 2017, 14:39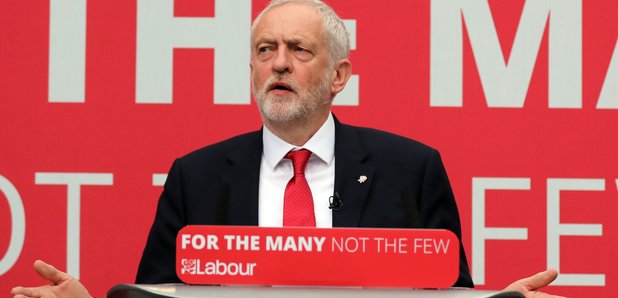 Here are the 10 key pledges from the Labour Manifesto, launched by Jeremy Corbyn this morning.
1) Increase corporation tax from 19% to 26%. This would be the biggest single revenue raiser in the Labour manifesto.
2) A pledge to ban zero hour contracts to guarantee workers a "number of hours each week".
3) A 45p income tax rate for those earning £80,000 plus, and the 50p rate would kick in at £123,000 - which the independent IFS say would bring in £100m. No income tax rises for those earning below £80,000 a year.
4) Four new public holidays to mark national patron saints' days.
5) Bringing the railways back into public ownership and reversing the privatisation of Royal Mail.
6) Scrap the pay cap and immediately guarantee the rights of EU staff. All hospital parking will be free.
7) More than £30bn in extra NHS funding until 2022, paid for by the income tax tax increase and by increasing tax on private medical insurance.
8) Scrap university tuition fees and reintroduce maintenance grants for students.
9) A levy on "excessive" salaries: 2.5% on earnings over £330,000 and 5% on those over £500,000.
10) On Brexit, Labour says it would not accept leaving the EU without a new trade deal and said they will negotiate a deal that preserves jobs and access to the single market - although the manifesto also says Freedom of Movement will end when Britain leaves the EU.
LBC's Senior Reporter Vincent McAviney pointed out that none of the Shadow Cabinet are even pictured in the manifesto.
Labour's #GE2017 manifesto, several photos of Corbyn but there are no other Labour MPs (not even shad cab) in it: https://t.co/twCx8SQgsK

— Vincent McAviney (@Vinny_LBC) May 16, 2017
Despite claims of the manifesto being fully costed, LBC's Political Editor Theo Usherwood spotted this note at the back.
Paragraph at the end of Labour's costings.... pic.twitter.com/OY0eirLSiO

— Theo Usherwood (@theousherwood) May 16, 2017