"Rambling" Boris Johnson contradicts own government's claims on his Brexit deal
8 November 2019, 10:28 | Updated: 8 November 2019, 10:50
A video has emerged of Boris Johnson appearing to contradict the government's position on his Brexit deal during a "rambling" speech to Conservative supporters.
Manufacturing NI tweeted a video in which the Prime Minister said that frictionless trade between Northern Ireland and the rest of the UK would be maintained under his Withdrawal Agreement.
In the two-minute video, Mr Johnson said: "When you come out of the EU Customs Union, which is what we've done, you have to have some way of checking that goods that might attract a tariff going from the United Kingdom into Northern Ireland pay that tariff, if there is to be a tariff.
"The only place you can do it, if you don't do it at the border, is at the border in Northern Ireland.
"There will not be tariffs or checks on goods coming from GB to NI that are not going on to Ireland, that's the whole point.
"There will not be checks - and I speak as the Prime Minister of the United Kingdom and a passionate Unionist - there will not be checks on goods going from Northern Ireland to Great Britain.
"We're the government of the United Kingdom and we will not institute or implement or enact such checks."
Previously, he had been accused of misleading parliament his claim that there would be no checks, with Brexit Secretary Steve Barclay admitting that that Northern Ireland businesses will be forced to fill out export declaration forms when sending goods to Britain.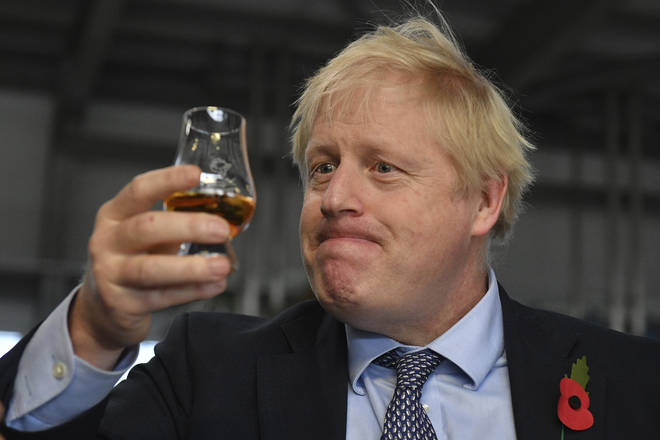 In his speech, Mr Johnson also insisted that Northern Ireland have a great deal - because they get to keep all the benefits of membership of the European Union.
He added: "Actually Northern Ireland has got a great deal. You keep free movement, you keep access to the single market, but you also have, as it says in the deal, unfettered access to GB."
Labour's Shadow Brexit Secretary Keir Starmer tweeted: "Boris Johnson either doesn't understand the deal he has negotiated or he isn't telling the truth. Probably both."
Bradley Whitford, who played a spin doctor in US TV programme The West Wing, tweeted: "We have an incoherent racist con man. They have a rambling drunk. Good luck, everyone!!!"