Boris Johnson tells Jeremy Corbyn to 'come clean' about his Brexit views
4 November 2019, 23:39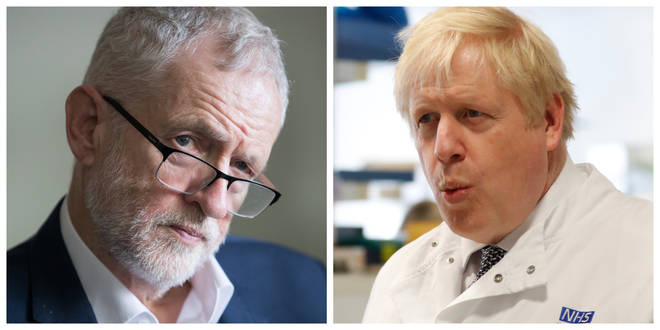 Boris Johnson has challenged Jeremy Corbyn to "come clean" about his views on Brexit as the two leaders ramp up their fighting talk ahead of next month's general election.
In a letter published on his Twitter page, Mr Johnson said that votes deserved to have a "clear picture" of each potential prime minister will do in the future for Brexit.
He also accused Mr Corbyn of wanting to "go back to square one" and negotiate a whole new deal "from scratch", which would lead to more "dither and delay."
But a Labour Party spokesman said: "Jeremy Corbyn has repeatedly laid out Labour's clear and straightforward policy of getting Brexit sorted by giving the people the final say within six months and will do so again tomorrow in a major speech."
In his speech, Mr Corbyn is expected to say the Tories are preparing to unleash "Thatcherism on steroids", opening up the health service to US pharmaceutical companies and stripping workers of their rights.
He will again claim Mr Johnson is seeking a post-Brexit trade deal with the US that would mean "full market access" to the NHS for US producers, pushing up the cost of medicines.
Tonight I have written to Jeremy Corbyn to ask him if he has made up his mind on Brexit.

The British people deserve to know what they are voting for on December 12th. pic.twitter.com/abs3jjoOIP

— Boris Johnson (@BorisJohnson) November 4, 2019
The Conservatives have consistently denied the NHS would be "on the table" in trade talks with President Donald Trump's administration.
Mr Johnson's letter to Mr Corbyn, sent on Monday night, includes a number of questions which Mr Johnson says he and the voting public await answers to.
They are: "Do you believe the result of the 2016 referendum should be respected and the UK should leave the EU?
"Is the Labour Party's policy to keep the UK in the customs union and would it end free movement in any deal it negotiates?
"Would you commit to campaigning on your 'deal' in a second referendum?
"What is your supposed timetable to renegotiate a new deal and then hold a second referendum?
"How much taxpayers' money will you spend on holding this unwanted second referendum in 2020 and would this comply with Electoral Commission guidance on holding referendums?
"You rightly claim (for now at least) that the Liberal Democrat and SNP plan to revoke Article 50 is extreme - but if there is a hung Parliament you will depend on their votes. Will you confirm that, if there is a hung Parliament, you would never be willing to revoke Article 50?"
At the time of writing, Mr Corbyn had not responded to the letter.